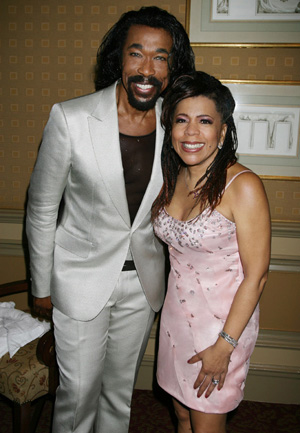 Motown lost one of its very own this week.
Nick Ashford, one-half of the legendary Motown songwriting duo Ashford & Simpson, died after losing a battle with throat cancer Monday at age 70.
Ashford and his wife Valerie Simpson are best known for writing classic Motown hits such as "Ain't No Mountain High Enough" and "Reach Out and Touch Somebody's Hand," but they also wrote a few hits for themselves, like the 80's hit "Solid As A Rock" for instance.
Ashford and Simpson's longtime relationship goes way back to 1964 when they met at a Harlem church and started writing songs together. At the time, Valerie was 17 and Nick was 21. They married 10 years later.
After scoring their first hit with Ray Charles in 1966, Motown quickly signed them to write for Diana Ross, Marvin Gaye and Tammi Terrell, and their relationship with that label lasted for 7 years before they moved to Warner Bros. and started producing albums for other artists.
Under the name Ashford & Simpson, the hit-making duo penned songs for Aretha Franklin, Gladys Knight, Chaka Khan, Whitney Houston and others.
Besides his wife Valerie Simpson, Nick Ashford is survived by their two daughters, Nicole and Asia, his brothers, Paul Albert and Frank, and his mother Alice Ashford.
Be the first to receive breaking news alerts and more stories like this by subscribing to our mailing list.