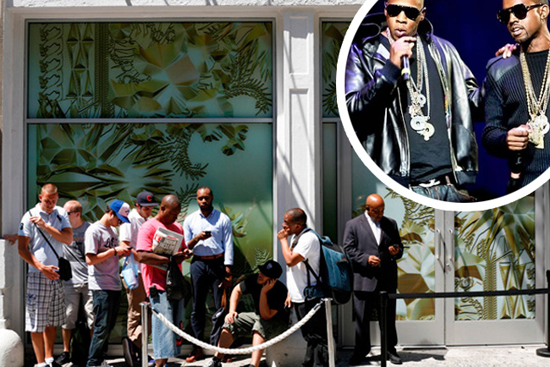 Looks like Kanye West and Jay-Z have been listening to their own song and are going "H.A.M." with the marketing of their collaboration album "Watch the Throne."
The "Otis" duo set up a pop-up store in Manhattan's trendy SoHo district on August 12th to push copies of the new album.
And to up the ante a little more (you know how these guys operate), the pair also put the tricked out Maybach they had in their "Otis" video on display in the store front.
Though visitors are allowed to walk right up to it and even touch it, there is a strict no photo/video policy in the store, and phones/video cameras are confiscated at the door to prevent visitors from sharing pictures all over the Internet.
On a large overhead screen, the Spike Jonze-directed "Otis" video plays on a loop, while music from the entire album is played from start to finish.
Be the first to receive breaking news alerts and more stories like this by subscribing to our mailing list.