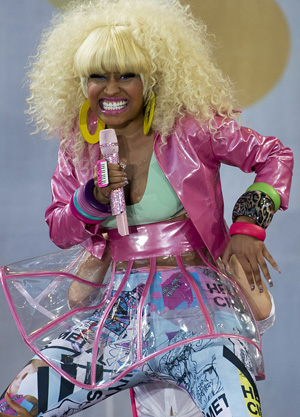 Already an animated character herself, rapper Nicki Minaj recently opened up to MTV News on the New Jersey stop of the Femme Fatale tour about her landing a role in the fourth installment of the hit franchise animated movie "Ice Age 4: Continental Drift."
And let's just say … it wasn't a hit and run for the "Super Bass" rapper to get the role.
"The original role that I was up for I didn't get. So I said, 'Oh, OK, whatever.' I was really mad, and the next thing you know, they called me and they said, 'We wrote in a part just for you 'cause we really want you to be a part of this movie'" she explained.
Not giving too much away, the pint-sized rapper said, "I don't know how much I can talk about that, but I came about that when my agency sent me out on an audition for some people who wanted to hear me. They knew I liked animation, they knew I liked to do voices, and so they said they were doing that so I thought, 'This is amazing.'"
Minaj didn't disclose what character she will be playing in the movie, but she did say it's up to the producers to choose one out of the two voices she played, and even so she still had a blast.
"And I just was screaming and so excited, and I went in and I had a blast. I did it as two different voices. We'll see what happens."
Be the first to receive breaking news alerts and more stories like this by subscribing to our mailing list.