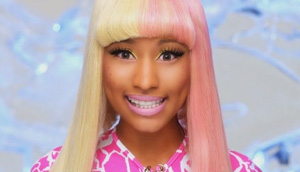 Nicki Minaj will remember this moment for life as she has just made rap history!
The Young Money artist's single "Super Bass" has become the highest charted song by a female rapper on the popular Billboard Hot 100 singles chart.
Billboard reports:
With its 4-3 rise on the Billboard Hot 100 chart last week (Aug. 13 chart date), the Young Money/Cash Money single became the highest-charting Hot 100 rap hit by a solo female (without the aid of a featured artist) since Missy Elliott's "Work It" reached No. 2 in 2002. 'Work' spent 10 straight weeks stuck in the runner-up slot.
"Nicki isn't like any other female rapper," gushed Cash Money co-founder/co-CEO Ronald 'Slim' Williams. "We knew she had the goods when Lil Wayne signed her. She's not a female rapper — she's a pop star who happens to rap."
In addition to Missy Elliott (who also charted at #7 in 2007 with "Get Ur Freak On"), Other lady rappers who have reached the top 10 include M.I.A. (#4 — "Paper Planes" — 2008), Lil Mama (#10 — "Lip Gloss" — 2007), Lauryn Hill (#1 — "Doo Wop (That Thing)" — 1998) and Da Brat (#6 — "Funkdafied" — 1994).
Lil Kim, however, has never had a solo single to chart higher than 16. Poor thing.
Be the first to receive breaking news alerts and more stories like this by subscribing to our mailing list.