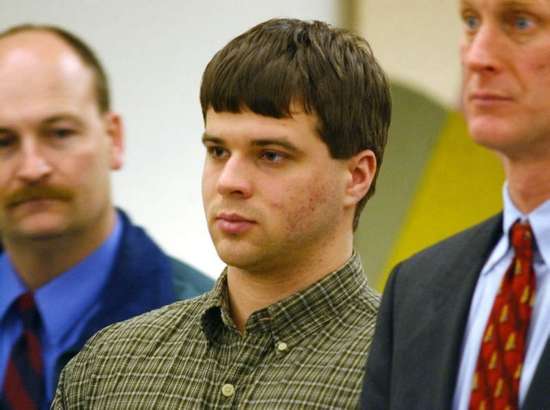 Isaac Turnbaugh of Vermont was acquitted of killing his co-worker in 2004, and he recently called police and confessed to the murder. But guess what? There is absolutely NOTHING they can do it about it.
You see, Turnbaugh is protected under a procedural defense known as "double jeopardy," which means that a defendant cannot be tried again on the same, or similar charges following an acquittal or conviction.
So in other words … Isaac Turnbaugh can't be tried again for his friend's, despite his blatant admission to the crime.
"He could have turned over a video tape of him committing the murder and it wouldn't change the fact that double jeopardy is attached," Vermont Attorney General William Sorrell told The Huffington Post. "We had our chance. The jury acquitted him and, just in the same way OJ could confess today to his wife's murder, it wouldn't affect what could be done to him."
The Huffington Post continues:
Turnbaugh, now 28, stood trial in 2004 on a charge of first-degree murder in the shooting death of Declan Lyons, 24. The two men were coworkers at the restaurant American Flatbread in Waitsfield, a town located about 20 miles southwest of Montpelier, Vt.

Lyons, engaged and expecting his first child, was found dead outside the restaurant on April 12, 2002. He had been mixing sauce in an outdoor cauldron when witnesses inside the restaurant heard a loud popping noise. WPTZ reported that, when the waitresses went outside to investigate, they found an unresponsive Lyons on the ground with a gaping head wound.

Police had no suspects in the case until the following month, when Turnbaugh went to a party and allegedly told six friends that he had shot Lyons. One of the friends told Turnbaugh's mother and she reportedly contacted the police.

"The whole reason he was charged was because he was sitting around the campfire with friends taking mushrooms and, amidst some sort of schizophrenic break, he confessed to this shooting, to being responsible for [the terrorist attacks of] 9/11 and an assortment of other things," Turnbaugh's former attorney, Kurt Hughes, told HuffPost.

uring police questioning, Turnbaugh denied killing Declan Lyons and said he considered him a "really good buddy."

Friends also described Turnbaugh and Lyons as good friends, which made it difficult to establish a motive.

"All of us can't fathom why this would have happened," former co-worker Jen Moffroid told WPTZ in August 2002.

"Not a lot of bad vibes. Not a lot of animosity . . . You don't know what to believe and we're just trusting in the system and hoping that the police and courts can figure out what really happened here. We all would really like to know what really happened."

Hughes said the case was extraordinary, in that he had easy access to Lyons' coworkers and friends — a rare convenience for a suspect's defense.

"They all loved Isaac as much as they loved the victim. It was unlike anything I had been involved in before," he said.

Following his arrest, Turnbaugh was diagnosed with a serious mental illness. The case did not go to court for roughly two years. When it did, Turnbaugh's lawyer argued that his client was ill and said that the FBI was unable to establish that a rifle belonging to his client was the murder weapon.

According to WCAX, prosecutors never denied that they did not have a motive for the crime, but were hoping that lies Turnbaugh had told police — as well as his confession at the party — would help them to prove premeditated murder.

On April 6, 2004, after five hours of deliberation, jurors found Turnbaugh not guilty of murder.

Sorrell said that he was surprised by the verdict.

"We had these admissions from him, but he had a very good lawyer who was able to raise reasonable doubt that if you couldn't believe that he was involved with 9/11, then you couldn't believe that he was involved in this murder," the Vermont attorney general said. "The jury did its job. We gave it our best shot. Our justice system isn't always perfect, but it is darn good."

In the month after he was found innocent, Turnbaugh found himself in hot water with police following a 7-hour standoff in which he was involved. Other than that, he has kept a relatively low profile. That is, until he contacted police in Montpelier recently and allegedly confessed to killing Declan Lyons. There is, however, nothing police can do about it.

According to Anne Bremner, a Seattle attorney and legal analyst, the double jeopardy clause forbids authorities from trying Turnbaugh again for murder in this case.

"The framers of the Constitution wanted to preclude government harassment of citizens via successive and potentially harassing prosecutions," Bremner explained to HuffPost.

"Let's take Casey Anthony's case," Bremner continued. "Even if she confesses to Barbara Walters, Oprah, or Larry Flynt, for that matter, double jeopardy would preclude charging or prosecuting her again."

Once again, attorneys on both sides are in disagreement about the alleged confession.

"He's mentally ill. He made similar so-called confessions before the trial, so it's nothing new. It's part of his illness [and] it sounds like he's having a relapse of some sort," Hughes said.

Sorrell, on the other hand, believes Turnbaugh's alleged confession.

"He gave some details this time that were consistent with evidence in the case," Sorrell said. "Clearly, the victim had a head wound, but the police were never able to find any bullet or bullet fragments enough to do any ballistics, so we did not have evidence of any particular caliber or any particular gun. We believed it was a high-powered rifle, and we knew that Isaac Turnbaugh owned a 30-30 rifle. So, this time, he did say he shot him in the head with the 30-30."

There have been speculation and rumors that authorities could go after Turnbaugh on other potential charges such as perjury, but Sorrell said the defendant did not testify on his own behalf, so perjury is out of the question. Besides that, the statute of limitations is up and "that's not what we're looking to do here," he said.

A civil suit is also unlikely, the attorney general said.

"Quite frankly, I'm not sure that the victim's family would be looking for monetary reward," Sorrell said. "[Secondly], even if they got a verdict for a hundred million dollars, I'm not sure they would be in a position to collect a dime from Isaac Turnbaugh."

Police have not talked to Turnbaugh since his alleged confession. He did not respond to an interview request from The Huffington Post.

According to Sorrell, authorities still believe Turnbaugh is the killer, and do not plan to re-open the case.

"It's just a terrible tragedy," he said. "But, he has to live with what, in fact, he has done."
Are we the only ones who feel like this whole "double jeopardy" thing is messed up? This Isaac Turnbaugh character is obviously mentally ill though, and he needs some serious help pronto.
Be the first to receive breaking news alerts and more stories like this by subscribing to our mailing list.