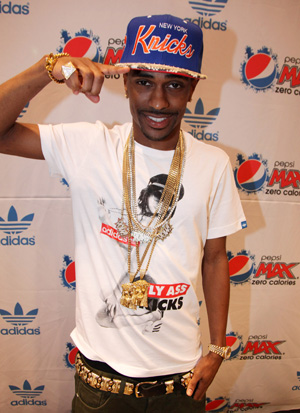 Rapper Big Sean is facing charges in upstate New York after a woman complained that the Def Jam recording artist and a friend sexually assaulted her during a recent concert.
New York State police charged the Hip-Hop newcomer (real name: Sean Anderson) and his friend Willie Hansbro with misdemeanor counts of forcible touching, second-degree unlawful imprisonment and sex abuse.
Reuters reports that police were first notified of the incident last night at Artpark State Park, where Big Sean was performing a concert with fellow rapper Wiz Khalifa.
Sean and Willie were both arrested, arraigned and released on $500 bail. A court date regarding the incident is scheduled for September 6th.
When contacted, reps for Big Sean or his record label did not respond to requests for comment. Authorities are also refusing to comment on the incident.
Big Sean, who is signed to Kanye West's "G.O.O.D. Music" imprint (under Def Jam Records), just released his debut album "Finally Famous" on June 28th. To date, the album has moved under 200,000 units.
Be the first to receive breaking news alerts and more stories like this by subscribing to our mailing list.