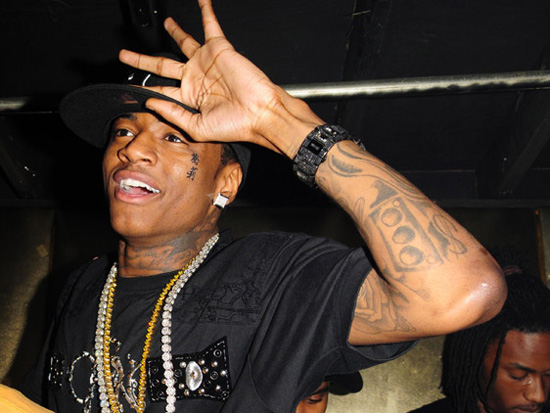 Soulja Boy turned 21 yesterday … and to celebrate (like no other), the rapper is dropping $55 million on a brand new, tricked out private jet!
Sources close to the few-hit wonder emcee told TMZ that he bought himself a G5 worth $35 million, but he spent an additional $20 million to pimp it out with 12 custom italian leather seats, flat screen TVs, 4 liquor bars, a special "travertine" tiled floor –whatever the hell that is — and Brazilian hardwood cabinets.
He also plans on ripping out the standard lavatory to install a luxury bathroom, and getting a custom paint job with his logo for the plane's exterior.
And apparently, a $55 million jet is just a PART (albeit a BIG part) of his birthday celebration this week.
He's also spending $300K on a big birthday bash in Miami tonight, which is expected to be attended by Dwight Howard, Bow Wow, Sean Kingston and more. The party will be streamed live via his website.
But where on earth does Soulja Boy get money like that to spend? And does he realize that his chances of making any more get smaller and smaller every time one of his albums flop? These are two questions that need to be answered ASAP before this guy ends up becoming a 21st century MC Hammer!
But hey … it's his life, his money. And apparently, he has it to blow.
Let's just hope the kid isn't draining his life savings to impress his little friends. You know, those same "friends" who will drop him like a bad habit when he spends up all his money and ends up BROKE!
Be the first to receive breaking news alerts and more stories like this by subscribing to our mailing list.