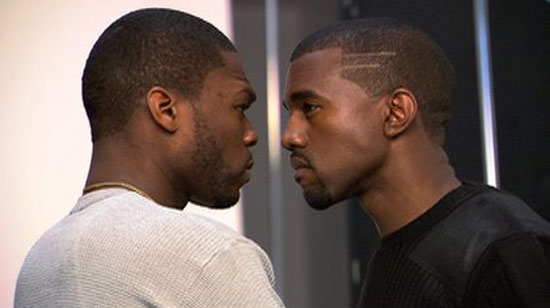 50 Cent is interested in working with Kanye West … the same guy he had an "album sales competition" with — and lost — back in 2007. (How ironic?)
In a recent interview, the G-Unit Boss told MTV News that the two have talked about collaborating … but haven't gotten around to hitting the studio yet because of how busy Yeezy and Jigga have been with their "Watch the Throne" album.
"Yeah we talked about it, both of us; and Kanye went on the radio and talked about us collaborating soon," 50 said. "I don't know if it will actually happen during this period, because of how much they got going on with Watch the Throne, with him and Jay doing that. I don't know."
As for his music … 50 says he has a lot of tracks stocked up — somewhere around 40 songs — for a CD.
"I have a lot of good ideas for it, and I just put 'em on the side and said, 'We'll see what happens,' and I kept doing other things," he continued. "I have too many records right now. I recorded to the point that I have 40 songs for a CD that will have 13, maybe 14 cuts."
Wonder if he will ever put those tracks to good use … or keep going back and forth on Twitter with Interscope and Dr. Dre and whoever else he wants to antogonize for the day?? The choice is yours Curtis!
Be the first to receive breaking news alerts and more stories like this by subscribing to our mailing list.