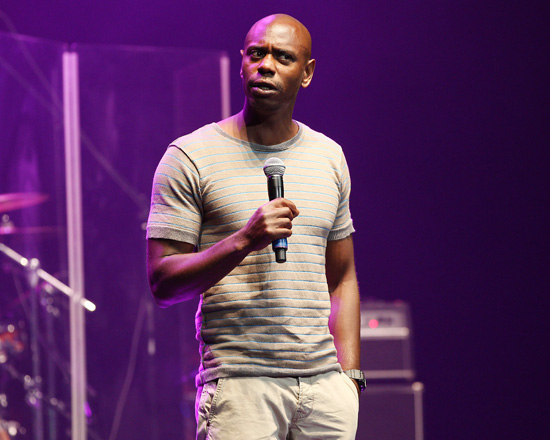 Comedian Dave Chappelle was booed off the stage at a charity function in Miami over the weekend after he decided he wasn't going to perform because people were recording him.
The funnyman was set to do a stand-up comedy routine for Alonzo Mourning's Summer Groove charity event Saturday night (Jul 23), but refused to tell any jokes once he spotted a few audience members trying to record him.
CNN's Roland Martin was there and live tweeted the whole thing, saying that Chappelle's set was "bizarre" and he "spent more time going back and forth with one audience member, and pretty much stopped telling jokes."
He continued:
This Dave Chappelle set is bizarre. He's spent more time going back & forth with one audience member, & pretty much stopped telling jokes

One woman just yelled, "Can you tell a joke so we can enjoy ourselves!" He got texted four times during his show and actually checked them

I'm jut not understanding what threw him off. He's complained about folks videotaping his set, yelling out loud. I don't get it

"This crowd is serious as hell," he says. Dave, we're trying to figure out what we've listened to for the last 25 minutes.

Chappelle says this is a "test of wills." He keeps saying "tick tock" & he has "nothing but time." He's just staring at the crowd & sighing

"As shitty as the show is, I can't wait to explain this on CNN." Dave Chappelle complaining about a guy taping his whole show

Then Dave started talking to me, asking if I was putting this on CNN. Yes, from the stage! He's been on stage 46 minutes & told one joke.

He kept saying "I respect your work." And then he said, He'll send me a tape of his better comedy work. This is a trip!
But Chappelle sang a different tune when he returned to the stage the next night at the second night of the gala. He apologized for his "bad attitude" the previous evening, even poking fun of himself during his 10-minute routine.
A Miami.com reporter tweeted during the show, "The second try better than the first. No hecklers and Dave Chappelle doing well… time to call it a comeback."
Watch the video footage of Dave Chappelle getting booed of the stage during the first night below:
Be the first to receive breaking news alerts and more stories like this by subscribing to our mailing list.