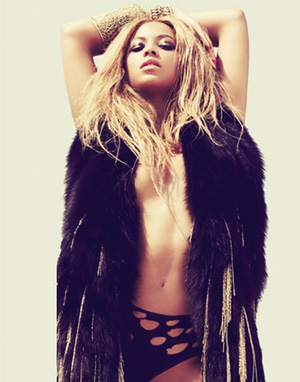 Not only is Beyonce promoting a new album, but the multi-talented entertainer is also promoting her upcoming role in a new movie titled "A Star is Born."
Though production for the Clint Eastwood-directed movie doesn't begin until the end of the year, the Pop star is already gearing up for her lead roll in the film, calling the film the "biggest opportunity of her life."
"It's when I became a fan of Barbra Streisand's. And I then saw Judy Garland's version of 'A Star Is Born' and I realized every 20 to 30 years a new star is born and a new talent represents that generation and era — so I didn't think that I would ever get the opportunity to be the star," she told Reuters.
"I met with Clint and I was so nervous and I know that it is the biggest opportunity of my life. I will work as hard as I can," she said. "Because I can't wait. And I am so happy that he trusts me and I am in good hands and I am so fortunate."
Read more excerpts from the interview below:
On balancing acting with music:
"Having to balance the two is really hard and really making sure that I'm still doing my job, which is to be the performer and the entertainer and not have to do everyone else's job so that mine doesn't suffer, that's been a challenge. I'm sleeping with my blackberry, I'm having dreams that I'm answering e-mails, like it's that far!"

On "4" being a cohesive album:
"This album was a labor of love. It was not about singles," she said. "I felt like the emotion and live instruments and just soul (were) missing out of the music industry, especially the popular music that's out. I wanted to bring it back to the music I grew up listening to. It's like a mixture of the '90s and the '70s and rock-n-roll."

On trying to top her "Single Ladies" music video:
"[That video] was something that no one knew would become the phenomenon it became, thank God. And I know I am so lucky to have one of those moments in my career. It is just a blessing."

On using Michael Jackson as inspiration to take charge of her career:
"It just feels like no one else can tell me how I am supposed to perform, and I think it's what separates the Michaels and the Madonnas from the artists that are great but are just not quite the Michaels and the Madonnas."

On herself 30 years from now:
"I am sure at 60 I will not doing the Oh-Oh-Oh dance, that will not be cute," she laughed, referring to the 'Crazy In Love' dance. "I think my priority will be my children and hopefully my grandchildren by then — and my record label or production company or whatever else."

[Reuters]
In related news, "4," Beyonce's latest album, is reportedly on track to hit the 1 million albums sold mark this week when the United World Chart sales figures are in.
Check out video footage of her on the set of the album's photoshoot below:
Be the first to receive breaking news alerts and more stories like this by subscribing to our mailing list.