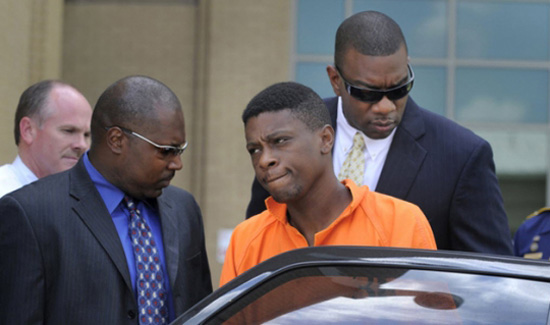 Incarcerated rapper Lil Boosie, who is already in jail facing murder charges, was formally indicted Thursday for allegedly trying to smuggle drugs into prison for the second time!
The latest charge stems from a May incident when Torrence "Lil Boosie" Hatch and two other inmates attempted to sneak codeine into the Louisiana State Penitentiary at Angola. The 28-year-old Baton rouge rapper is already under indictment on a charge of conspiring to introduce illegal drugs into another state prison (the Dixon Correctional Institute at Jackson).
Boosie and the other two men, Titus Franklin and Arthur Stewart, both 27, were all charged with one count of criminal conspiracy to take contraband to and from a penal institution.
Boosie, currently serving a 4-year prison sentence for drugs and gun possession, was individually charged with inciting a felony, while the other guys each were charged with a count of possession with intent to distribute a controlled dangerous substance.
On top of the remaining 2 years he is serving from an unrelated drug charge, Boosie could get another 4 years due to his most recent charges.
Lil Boosie has been serving time behind bars since 2009 after he pleaded guilty to a third-offense marijuana possession charge. He was indicted on a first-degree murder charge in June 2010 for the October 2009 slaying of 35-year-old Terry Boyd.
Prosecutors allege that Hatch hired someone to kill Boyd, and that hired "hitman" (who was only 16 years old at the time) is also charged with first-degree murder in Boyd's death, along with 5 other killings. On a separate case, Boosie is accused of paying the same teenager to kill Christopher "Nussie" Jackson.
With Boosie's rap sheet growing every month … it doesn't look like he'll be getting out of prison anytime soon.
Be the first to receive breaking news alerts and more stories like this by subscribing to our mailing list.