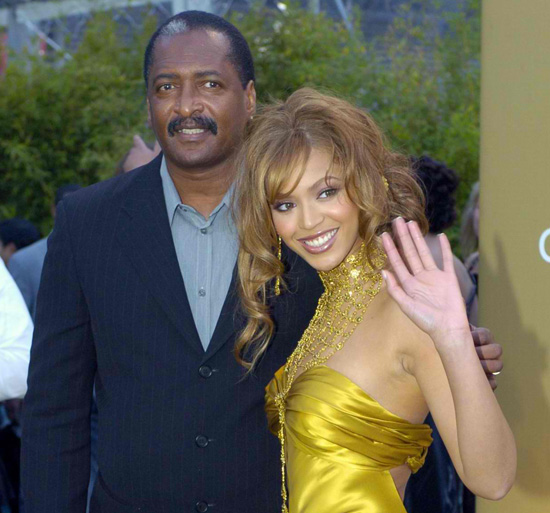 After being fired from Beyonce's management team just a few weeks back, Mathew Knowles is speaking out for the first time, denying that he stole money from his multi-million dollar daughter. And he's filed a lawsuit to prove his case!
"We absolutely have not taken any money from Beyonce, and all dollars will be accounted for," he told The Associated Press in an interview Thursday afternoon. "In no way have we stole money. Again, this about the people who have made these claims — they have to come into the light."
Knowles insists that he still has an amicable relationship with his daughter, but alleges that the people around her have tried to destroy his reputation with the theft allegations.
So he has filed papers in a Texas court this week alleging that members of his superstar daughter's camp, including her label Columbia records, Live Nation Entertainment Inc. and Jay-Z's Roc Nation imprint, have made "negative comments" about him.
"The relationship with Beyonce is extremely amicable. I want to make that clear. Where there's concern is the people that she's doing business with," he said. "I'm challenging all of these folks on integrity, professional integrity."
After Beyonce fired her dad, she put together an entirely new team, Mathew says. "She changed almost every aspect of her business. The team ironically appeared to be a cross-pollination of Beyonce's team, Roc Nation's team, and Live Nation's team, who ironically have the most to gain."
So was Mathew Knowles deliberately deleted from the equation? "I'll let people come to their own conclusion," he said.
While Knowles hasn't spoken to his daughter specifically about the allegations (yet), he did tell her this: "The only way we will be able to understand this is through a court of law. That's the only way either one of us will be clear if someone in our camps did something that was not correct."
Beyonce's new album "4" debuted at the top of the charts last month, but it has failed to produce a hit single. Mathew Knowles blames her camp and her label for that. "They put out the record in a vacuum," he said, adding that her success came despite setbacks.
"It makes you believe that there are some artists that don't need radio. There are some records that don't need a record label, and Beyonce is one of those artists," he said.
Beyonce's reps have yet to respond to anything regarding this matter.
Be the first to receive breaking news alerts and more stories like this by subscribing to our mailing list.