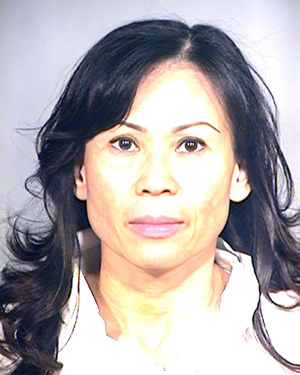 A California woman was arrested in the Garden Grove area after she allegedly chopped off her husband's penis and ran it through a garbage disposal.
According to reports, Catherine Kieu Becker put a drug/poison in her estranged husband's dinner Monday night to make him fall asleep.
Police said: "The victim went to lie down and he woke up tied to the bed with his wife tugging his clothes off. The suspect grabbed the victim's penis and cut it off."
Becker then tossed the 51-year-old victim's genitals into the garbage disposal, and turned it on.
She told responding officers he "deserved it" when they arrived the scene after she called 911, the police report states.
Police found the man, who remains unidentified because he is an alleged victim of spousal abuse, tied to the bed and "bleeding profusely" from his groin area. He was was rushed to University of California at Irvine Medical Center for treatment.
"Police were able to recover portions of the penis from the garbage disposal," Garden Grove, California Police Lt. Jeff Nightengale said, but it was unclear whether doctors would be able to reattach them.
Catherine Becker, 48, was arrested for aggravated mayhem, false imprisonment, assault with a deadly weapon, administering a drug with intent to commit a felony, poisoning and spousal abuse. She is currently being held with out bail at the Orange County Jail.
Due to the extreme nature of her crime, Becker was charged with 2 felonies, including torture, and now faces a maximum sentence of life in prison.
Be the first to receive breaking news alerts and more stories like this by subscribing to our mailing list.