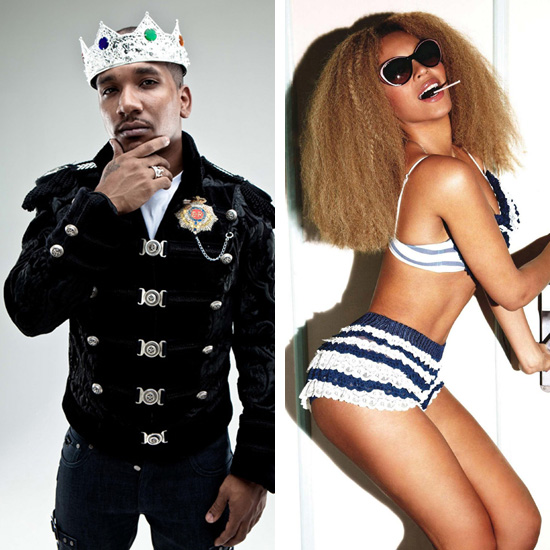 Music sure does travel a long way!
In a new interview with our good friends over at VIBE Magazine … G.O.O.D. Music rapper Cyhi The Prynce revealed that Beyonce played a role in him getting signed to Kanye's label.
VIBE: Wow. Beyoncé was the bug in Ye's ear telling him to put you on?

CyHi: Beyoncé is one of the reasons I got signed to G.OO.D. A lot of people don't know that. I guess [it was] when he was playing her the music, when I had snuck my verse on Kanye's song. The story is: One night I was at the studio, and he was doing his record, and he was like,'Yo, I'm finna go. Think of this hook for me.' I was like, 'Okay, cool,' so when he told me which song it was, it was one of my favorite songs that he was working on. I thought of the hook, so I put it on the song. And it was crazy because… Well, let me tell you this story first:

When I first got to Kanye, when we was at the studio, it was in Hawaii right [in front of] the ocean. When you go in, you go through, like, 20 doors, you know what I'm saying? You gotta go through so many rooms just to get to where he is. So once you get in there, he had rules and regulations like "No internet," "No electric guitars," "No autotune," "No cameras," no nothing. He had the rules on the wall, but once you seen what he was in there doing, it was all work, it was all business. There was never no playtime. But when he asked me to do the song, it was a strict environment, so I didn't have nothing else to do. I was like, I'll write a verse. So I wrote a verse, and I didn't want him to hear my verse so I put my verse at the end of the song. [Laughs] So I guess when he was playing the song for Beyoncé, and whoever else, I guess he left the song playing while he was talking, and my verse just came in out of nowhere. And that was it.

And that became "So Appalled."

Yeah, this was for "So Appalled." At this time, Kanye didn't have a phone, so one morning, I get a number from Hawaii that calls me. I'm thinking it's the local weed man or something or some girl I met in Hawaii, something like that [Laughs]. I pick up the phone like, [Imitating Kanye] 'Hello, this 'Ye.' I'm like, 'Ye, you got a phone?' He was like, 'Congratulations.' I'm like, 'What did I do? What happened?' He sounded like he was kinda mad at first, and I'm thinking he done fuckin' heard the verse, aw man! [Laughs] He was like, 'You made the album, congratulations; The verse is incredible.' And ever since then, it's been smoothesailing.
That just goes to show that you should always keep people on your "G.O.O.D." side (ha!). You never know who might be vouching for you…
Be the first to receive breaking news alerts and more stories like this by subscribing to our mailing list.