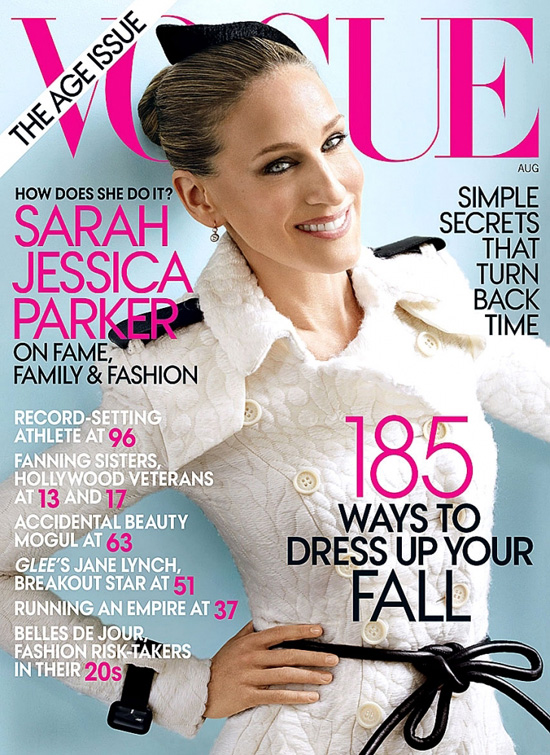 Actress Sarah Jessica Parker opens up about her family life and what it's like raising young twins (born via surrogate mother) at 46 years old in her cover story for the August 2011 issue of Vogue Magazine.
Although SJP and her husband Matthew Broderick have a nanny to help take care of their twins Marion Loretta Elwell and Tabitha Hodge, the couple refuse to have someone else raise their kids, including 8-year-old son James Wilkie.
"We don't have any live-in help. We're pretty hands-on parents. That's something that's important to both of us, and we don't shirk it, because what's the point in having a family if you're not going to really participate in it, you know?"
In the article, SJP also describes which parent the twins are looking like more and more everyday.
"Tabitha's very, very outgoing, but physically she's very shy. She shakes in elevators; it's very sweet, like Bambi. And then Loretta is pale, like my husband, with piercing blue eyes. But she's physically bold… I think it's funny how much she looks like my husband. Except then I look at Loretta and she has my husband's mouth and sort of sad eyes, you know the kind that go down? The Broderick eyes. They both really look like him."
Sarah even explains the differences between herself and her "Sex and the City" character Carrie Bradshaw.
"Bradshaw's life is nothing—nothing—like mine. I loved playing her, and it changed my life in lots of wonderful ways, but I'm not a crazy shoe lady, I don't think about fashion all day long, although I have a great respect for the industry… I ultimately chose to stop doing the television series because I felt like it required, and deserved, a lot of time when I really wanted to be a parent."
Check out pics of SJP and her family posing for the magazine's spread below:
The publication hits newsstands next Tuesday (Jul 19)!
[Celebuzz]
Be the first to receive breaking news alerts and more stories like this by subscribing to our mailing list.