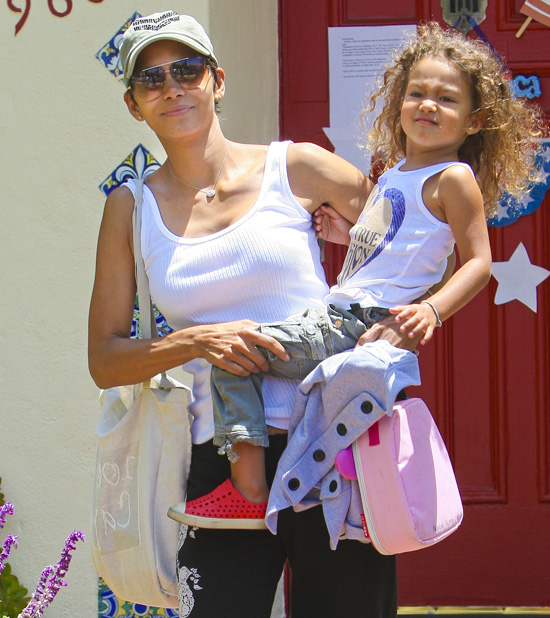 Halle Berry was spotted picking up her daughter Nahla from preschool in Beverly Hills Monday (Jul 11).
The actress just got a restraining order against an alleged stalker who trespassed onto her property 3 times in just 3 days. According to TMZ, the trespasser — named Richard Franco — was arrested after jumping over a fence surrounding Halle's home on Saturday, Sunday AND Monday.
According to legal docs obtained by TMZ … on Saturday … Halle says she was in her garage that was converted into a salon on her property, which is detached from her home. At some point she decided to go into the house through the kitchen to get a Diet Coke. According to the Halle's declaration, "As I opened my glass kitchen door and closed it behind me, all of a sudden I sensed someone behind me and turned to see the intruder standing less than a foot behind me, staring through my glass kitchen door."

Halle continues, "Panicking and in fear of my life, I turned my body and quickly hit the deadbolt lock on the glass door. I grabbed my phone and ran as fast as I could upstairs, slamming each door behind me as I ran." She then called 911.

Halle says, "He has terrorized me and my family in three consecutive incidents over the last three days," adding, "This person has invaded and trampled upon the most fundamental sense of security I have and I am extremely frightened of him and what he might do to me and those I love."

Halle says when she saw Franco on her property he was carrying a book with "nonsensical ramblings and my name written in his handwriting."
Franco is still in custody and a full hearing for a permanent restraining order is scheduled for August 1st.
More pics of Halle and Nahla in Beverly Hills Monday afternoon are below:
Be the first to receive breaking news alerts and more stories like this by subscribing to our mailing list.