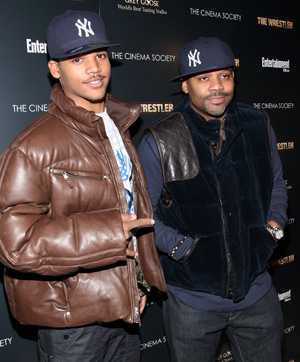 Damon Dash has been labeled a "deadbeat dad" by one of his baby mamas.
In a new interview with Radar Online, Linda Williams, Dash's ex-girlfriend and the mother of his 19-year-old namesake, says Jay-Z's former business partner has not only failed to pay court-ordered child support payments of $425 per week … but he also talked him out of going to college, all so that he wouldn't have to pay at all!
Williams told RadarOnline.com: "I just want Damon Dash to do the right thing by his son and pay his support and help me get him in college. My son got into Five Towns College in Dix Hills, NY, on a $30,000 scholarship recently to do music, but his father did not want him to go even though it would not have cost him anything.
"He keeps telling him 'tell your mom to drop the child support case and get out of court' when my son just wants to be a normal teenager and go to college. His father recently set him up with some DJ gigs in New York, and I'm worried that he falls in with a bad crowd and gets involved with drugs and alcohol.
"My son loves music and ideally he could do both. He does not hate his father or anything like that, but he wants more guidance from him. His father has the money he just needs to do the right thing by his son."
Dash currently owes Uncle Sam over $20 million in back taxes to New York and New Jersey … but Williams says he can still afford to pay child support.
"At our last court appearance he admitted that he was paying between $10,000 and $12,000 per month for his home in Upstate New York, plus he has an art gallery and recording studio in Manhattan, so he's hardly broke," she said.
What do you think? is Damon Dash a deadbeat dad or what?
Your thoughts?
Be the first to receive breaking news alerts and more stories like this by subscribing to our mailing list.