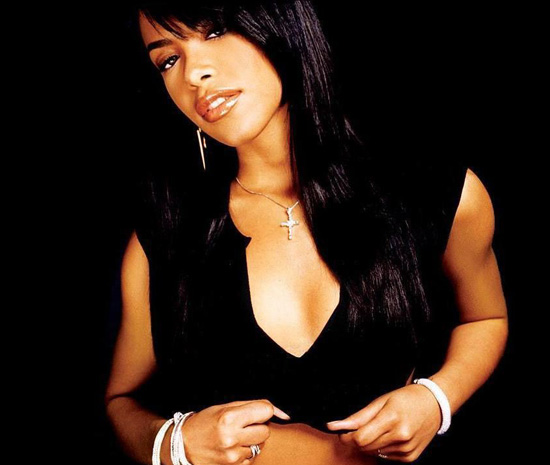 Today marks a sad day in the music industry: the 10th anniversary of Aaliyah's tragic death.
10 years ago today, Aaliyah Dana Haughton, the young R&B singer known worldwide as Aaliyah, was tragically killed in a plane crash in the Bahamas, putting a sad end to a promising career.
Just before her untimely passing, Aaliyah (born in Brooklyn, and raised in Detroit) had just released her third, self-titled album and had filmed the music video for the project's second single "Rock the Boat."
She was also in the middle of filming a new movie "Queen of the Damned," following her blockbuster debut in "Romeo Must Die." (FYI: Aaliyah was also in negotiations to star in the "Matrix" as well as "Honey" and a re-make of "Sparkle.")
But all of that was cut short on August 25th 2001 when Aaliyah, who was 22 at the time, and members of her entourage died after their plane crashed shortly after take-off from the Bahamas following the "Rock the Boat" video shoot.
Though Aaliyah was only able to release three albums during her short time here with us, each one left a significant impact on the music scene then, and still shows its influences today.
Read below to see what her follow musicians and colleagues (some who knew her personally, some who didn't) had to say about Aaliyah:
Brandy
"I met Aaliyah when I was about 15 [yrs old]. It was I think at a rehearsal for the Soul Train Awards and someone introduced us. I was so excited to meet her because she was the first girl on the scene. She came out before Monica and I did, she was our inspiration. At the time, record companies did not believe in kid acts and it was just inspiring to see someone that was winning and winning being themselves. When I met her I embraced her, I was so happy to meet her. I told her how much I loved her. She said the same thing about me and we connected. It was a great moment I'll never forget.
"We [later] performed at a radio event together. I remember going on before her and I could see her in a section where they kept the artists and she was just bobbing her head, really being supportive. It felt like [there] was no competition, or any of that. She was just very, very supportive. Then when she got on to perform, the entire place was singing her songs word for word, and so I was I. I was trying to sing louder than everybody else so she can hear that I knew her stuff and that I was being just as supportive as she was to me.
"There was a moment when I won at, I think, [Soul Train] Lady of Soul [Music Awards]. She sent me flowers saying how proud she was and 'congratulations.' I just thought that was so angelic and sweet of her. People say that Aaliyah is angelic and that just made me feel like 'wow, that's a moment.' Other artists supporting another artist when everybody's trying to put you against each other, which was very special. I was like 'whoa, that's really big of her.'"
Monica
"The first time I met her, she was extremely quiet. You [weren't] going to get a lot of words out of Aaliyah in a first meeting. It takes a lot of time for her to warm up to people because she had this shyness… I've never seen [Missy Elliott] in the type of turmoil and pain that she was in after Aaliyah passed because there's no replacing the type of friendship that her and Missy had."
Ciara
"She was true to who she was and she didn't seem to care about it. The core of her art is to me, heavily, heavily, urban based… It never felt like she was trying to reach across or do anything more than just keep that cool, soulful, heavy, urban core about it… I really respect that and I appreciate that."
Estelle
"Her purity of voice was incredible… Her vocals and style is what had her stand out above and beyond everyone. When I listen to her voice now, I think, 'She was killing it. She was a beast.'"
Keyshia Cole
"When I found out that she [had] passed that night, I just cried [while] on the tour bus. That's amazing for someone to have that affect on other people's lives. I think why it affected me so much without me knowing her is because she seemed to have a beautiful soul.
"[There was] something about her spirit. She connected before reality TV, before any of that happened in our era. It was something about her that made you connect to her. She seemed like she had a beautiful soul."
Missy Elliott (via Twitter)
"Aaliyah til this very day u r still in your own lane! Ure music is timeless! We miss u!"
Drake (via Twitter)
"Rip baby girl… In my ear at every show letting me know the next move I should make. Love you."
Damon Dash
"She was always working and shooting movies. She was always gone for like four months at a time, then come back and be gone for another month. She had to rehearse and I was doing my own thing, so it was really hard for us to get long stretches of time together. When you're with someone like that you buy into a life of being separate, but again, I couldn't help my feelings.
"The energy we created together for people to observe was kind of crazy. We'd be in a room full of people talking to each other and it felt like everyone was listening but it would be just us. It would be like we were the only ones in the room. It was like something was going down in history every time I was with her. Every time I was around her I felt it was the place to be.
"Our time together meant so much that when we got more time, we felt like that [engagement] would be next. She was one of the best people I ever met. Even with the pain I felt, I would do it all over again."
Ginuwine
"The state of R&B in the '90s, where she stood, she was second to none. She was pretty much the top female. It was a new sound, the production from Timbaland. Everyone had to pay attention. That was just a time I would love to go back to you. Everything was all about us, and it was all about Aaliyah. It would just set her apart from everyone in the '90s…we came at a great time."
DMX
"When I was on tour her and Joel Silver came to my dressing room to see if I wanted to be a part of the movie. Most people would have their people call, but she came herself.
"I'm like, 'Is this a trick question? You have to ask me if I want to be in a movie with Aaliyah? Hell yeah.' We [then] met up in Vancouver to [do] Romeo Must Die. She had a presence on TV that was incredible. It was sexy but kind of gangster.
"We did the [Back in One Piece] video in Mount Vernon and Yonkers. I got to bring Aaliyah to the hood. Not many people can say that. She was easy to talk to and down to earth. Aaliyah made you feel comfortable, with her and with yourself. That's one hell of a combination."
"Half these chicks that are doing it right now wouldn't be doing it [if she were still here]. Aaliyah would be on top. As far as I'm concerned she's still on top.
"Thank you," DMX says she would tell Aaliyah if still here. "Thank you for the opportunity. Thank you for memories. They're all priceless."
Be the first to receive breaking news alerts and more stories like this by subscribing to our mailing list.