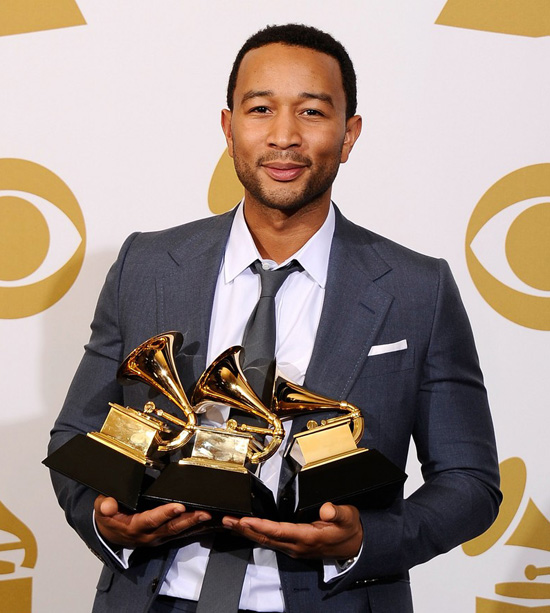 R&B singer/songwriter John Legend is being accused of stealing an aspiring songwriter's work.
Anthony Stokes claims that he gave the "Ordinary People" singer a demo tape of his song "Where Are You Now" after meeting him at the University of North Carolina back in 2004. He claims that Legend assured him he would take a listen to it but never got back to him.
Stokes has since filed a copyright infringement suit in the U.S. District Court of New Jersey-Newark on Tuesday.
E! Online reports:
Two years later, however, Stokes claims he was taken aback upon listening to "Maxine's Interlude," off his 2006 album Once Again, as the melodies and even lyrics sounded all too similar to his original composition. Now he wants unspecified damages for violating his copyright.

A rep for Legend was unavailable for comment. Sony Music Entertainment and Columbia Records were also named in the suit and have yet to issue a comment.
"My client was a college student at UNC and attended the school homecoming concert by John Legend. There was a meet and greet afterwards and my client, being a fan and aspiring songwriter himself, presented Mr. Legend with a demo of his original…copyrighted work", Stokes attorney, Louis D. Tambaro, told E! News.
He continued, "He heard nothing. Fast-forward two years and Mr. Legend released an album with a song sounding eerily similar that was featured fairly heavily in concert performances in 2008, which is another aspect of our damages request. From our respective position the case will hinge on Mr. Legend's access to my client's work and…the similarity between the works that will require scientific analysis and expert opinion."
Hopefully for John's sake (and career) … this isn't true.
Be the first to receive breaking news alerts and more stories like this by subscribing to our mailing list.