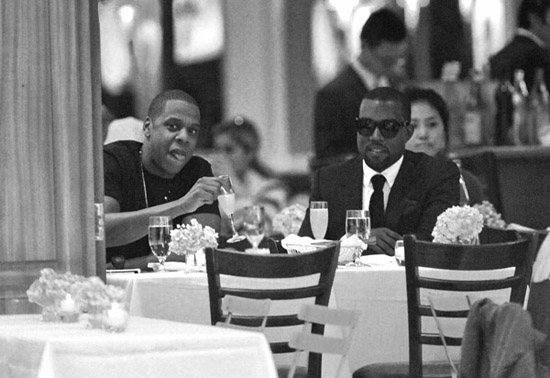 Somewhere in NYC on July 8th … 20 specially selected journalists were summoned to a top secret location to preview the highly anticipated collaboration album of two of hip hop's most talked about rappers: Jay Z and Kanye West.
Given strict instructions not to tweet or disclose the song titles to the masses, Jay hosted the intimate event (as Kanye is currently in Paris for Fashion Week) and gave a sneak peek of what to expect from the dynamic rapping duo.
Completely ignoring his commands, the world now knows that Frank Ocean performs on two joints, one of which is titled "No Church" and is Jigga's favourite song, and current queen of the Billboard charts Beyonce guests on a track called "Lift Off" along with singer/songwriter Bruno Mars.
"Man it's just some good-ass songs on there. I don't know if they want me to give away any of the titles, but you'll hear it. You'll know what I'm talking about. Just even from the intro it's like, damn!" Jigga said of Watch the Throne.
This disc is not for the light hearted as it addresses topics such as Black-on-Black crime and raising children.
Jay also disclosed that he is working on a new solo effort and has started 2 songs.
With no official release date being disclosed, fans that have pre-ordered the disc can expect to receive it on August 2nd.
Be the first to receive breaking news alerts and more stories like this by subscribing to our mailing list.