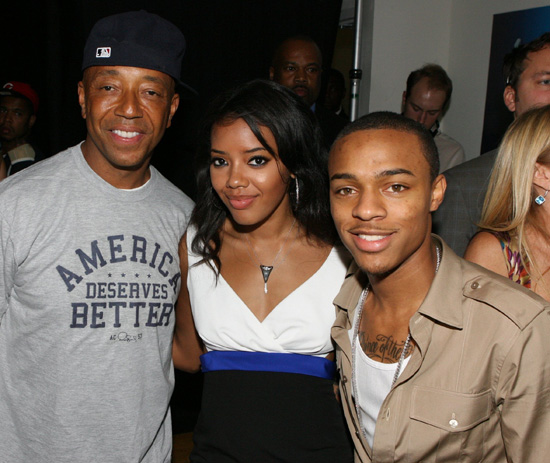 Rapper Bow Wow recently penned an open letter via his website to his fans and shared that he indeed is a proud father of a beautiful baby girl. He also explained the highs and lows of growing up fast in an even faster entertainment industry and how trying to keep up led him to having suicidal thoughts.
Moved by his genuineness, Russell Simmons decided to call the "Marco Polo" rapper and congratulate him on his openness, new attitude and growth as a young man.
Read what Bow Wow said to Uncle Rush below:
On opening up in his letter:
I'm so used to the media and everybody talking about the bad stuff or the stuff that is really not that important that shouldn't be out there for fans to see rather than focus on the things that really matter. I just woke up and felt a certain way and felt like the world was on me…like it was a secret everybody was asking me and I just felt like ok, it's either now or never. I wrote it from the heart so when everybody accepted it – you know when you retweeted it – I couldn't believe it! I was like 'Oh man this is crazy!'

On having suicidal thoughts:
The suicide thoughts just really came because I think earlier I was exposed to so much Uncle Russ to the point to where I kinda felt like it ruined my adulthood. When I was younger I wish I listened to everybody that was older telling me "don't do that just yet you should wait" or "don't go to the club yet you should really wait until your 21 or you got nothing to look forward to." So that's what happened, for me being around Jermaine and everybody so young I was around EVERYTHING. So by the time I got 18, I was really 26 (laughs) and I didn't wanna go to the club no more. When I got 20, I was like "Ok now I'm ready to get married." Now I feel like I'm 40! So the older I got, I just noticed [I was different than] my friends…I was like "I can't really hang with y'all" because they'd go to the club and I've done all that when I was 14. So it made me realize like "what am I here for? What am I living to do?"

On his daughter:
I just got so stressed out because I felt like I did everything too fast and it didn't leave me with nothing to look forward to. Now that I have my daughter I don't even have those thoughts no more. Because now it's like I got something to live for, I got more movies to go get, more records to go make because I gotta go hard for her now. So now I do have a purpose. So it took for me to have a dark period and pray to God that it's all gone and now it's a whole other ballgame. I'm just focused and it's just me coming out being clean about my situation. It's just a whole new outlook on life! It's dope!

On support from his good friend, Tyrese:
Even Tyrese, who's a good friend of mine, called me and was like "man, you don't even know what you just did." He said "you just made my week because you're the first young African-American, you know you're the youngest one in the game right now with a kid, you have a chance to have every male your age and younger who has kids now…you can make them step up and become better men." So when he told me that, I was like "WOW." I didn't even think about that and I never had my father in my life…ever! So this just makes me want to step up and just go harder even more and give her everything my father never gave.
Be the first to receive breaking news alerts and more stories like this by subscribing to our mailing list.