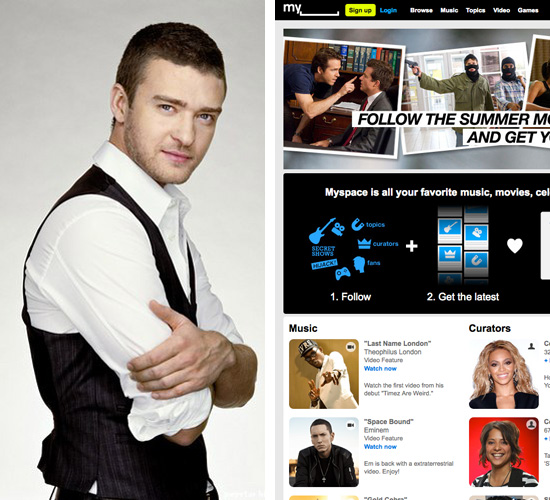 MySpace has been sold!
Specific Media bought the once popular social networking site for $35 million Wednesday, which is a lot less than the $100 million News Corp had hoped to sell for, and a hell of a lot less than the $580 million they paid for it in 2005. (And even more less than the $1 billion dollars it was once valued at.)
Just a few years ago, MySpace was "THE" social networking site. But in recent years, the site has fallen behind other social media sites like Facebook and Twitter in terms of popularity and overall growth.
Now, fast forward to 2011 and MySpace is desperate to get back back on people's good side. So desperate, in fact, that they are now teaming up with Justin Timberalake, who is buying a controlling stake in the company.
The singer-turned-actor and new owners Specific Media want to incorporate original music, video and programming into the site in an effort to turn it into a major entertainment portal.
"There's a need for a place where fans can go to interact with their favorite entertainers, listen to music, watch videos, share and discover cool stuff and just connect," Justin Timberlake said in a statement. "MySpace has the potential to be that place. Art is inspired by people and vice versa, so there's a natural social component to entertainment."
Justin, who last year appeared in "The Social Network" (aka the Facebook movie), will play an active part in overhauling MySpace, which is also set to feature "socially-activated" advertising campaigns.
"We look forward to partnering with someone as talented as Justin Timberlake, who will lead the business strategy with his creative ideas and vision for transforming MySpace," the company's CEO Tim Vanderhook said in a statement. "This is the next chapter of digital media, and we are excited to have a hand in writing the script."
Under the terms of the deal, News Corp will keep a less than 10 percent stake in MySpace. The company will also receive a private equity stake in Specific Media.
Be the first to receive breaking news alerts and more stories like this by subscribing to our mailing list.