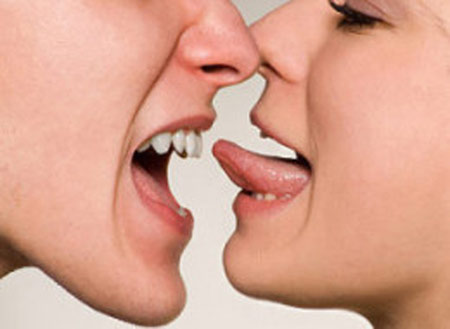 The next time some creep approaches you and tries to force himself on you … just bite his tongue off!
It worked for two ladies in two different scenarios and we've got proof below!
Story #1:
A Kansas City man is accused of assaulting a woman in a motel room and forcing her to perform a sex act on Thursday.

Clyde J. Rideout, 46, was charged Friday with forcible sodomy, attempted forcible rape and first-degree assault, the Jackson County prosecutor's office said. The attack allegedly happened in a room at the Admiral Motel, where the victim said that she and Rideout had smoked crack cocaine, court records stated.

At one point in the alleged assault, the woman told police, Rideout stuck his tongue in her mouth and she bit off the tip.

In court records, Rideout said that he acted in self-defense after the woman attacked him with box cutters.
Story #2:
Police say that a Stamford woman was attacked last night after leaving her church—but when the attacker dragged her to the ground and began to sexually assault her, she bit her assaulters tongue! "During that attack, he stuck his tongue into her mouth and she bit off a large portion of his tongue, which we recovered at the crime scene. There was an extreme amount of blood at the scene," said Stamford police captain Richie Conklin.

Gerard Michael Landon, 46, was caught by police after he sought medical treatment for his tongue at a Bedford Street massage chiropractic clinic…after a foot chase through a shopping center parking lot. Landon was taken to Stamford Hospital for a psychological evaluation. Police say he had approached the woman, who is in her 50s, as she was exiting the Basilica of St. John the Evangelist, and asked if she wanted a hug. When she refused, he wrestled her to the ground and started to force himself upon her.

Jessica, the health receptionist at the Bedford Street clinic, called police to report the strange man, but seemed more or less nonplussed by the whole situation: "He walked in and asked if we could help with his tongue and he stuck his tongue out and it was really gross. I was like, no, we can't." Then she referred him to a dentist in the next building. "I didn't think anything out of the ordinary. I just thought he was weird," she said.
See….we told you!
Be the first to receive breaking news alerts and more stories like this by subscribing to our mailing list.