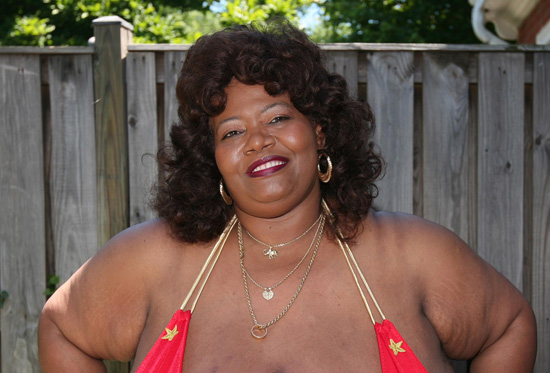 Ladies and gentleman … meet Norma Stitz, the current holder of the Guiness Book of Records title of the "World's Biggest Breasts!"
Norma says her 102 triple Z boobies are ALL NAT-UR-AL … and in order to claim the unique title (which she has now held for 12 years straight), she had to undergo several examinations from different doctors to prove that her "tig ole bitties" are the real deal.
Norma started wearing her first bra at the tender age of 9 years old, and she says that she is proud of her boobs and would never consider getting a breast reduction.
Check out Norma's gigantic boobies below (but only if your stomach is empty … you've been warned):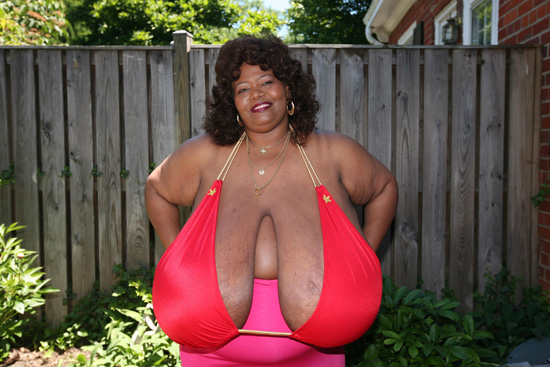 On getting her first bra when she was 9:
"I don't know what size I was. I was just big. The only thing I remember about those bras is they were cotton and they stuck out just like footballs and that's when I knew I was different. Kids are some of the worst people in the world when it comes to picking on people. I was teased a lot."

On her daily routine:
"When I go out of my house I have to think about what my day is going to be like and who is going to attack me today. Every day someone teases me that doesn't know me. They make fun of me and there's no reason. I'm human like everybody else."

On her late husband Alan:
"He turned my whole life around. He made me love myself and turned me into his Barbie doll. I was like a plus-sized Barbie doll to him. He treated me like a queen. He loved me and he loved my kids. He was my angel, it wasn't just sexual."

On the work she's done for adult websites:
"I've shown people big is beautiful and you can be sexy in your own way. It's not mucky, I'm an entertainer. I talk to you, I'm your fantasy. When I talk to you it's because there are things in your mind that you want to do to me. But in reality you'd never meet me."

On getting breast reduction surgery:
"Every time I get a new doctor they offer me surgery but I don't need surgery. I've got a strong back and have never had back ache. I've had therapy on how to hold myself so I won't hurt myself."
Well folks, we've gotta ask…
Be the first to receive breaking news alerts and more stories like this by subscribing to our mailing list.