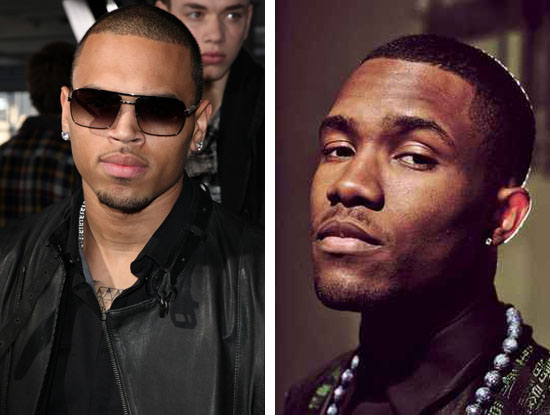 After footage of Frank Ocean's run-in with some of Chris Brown's boys surfaced on the web……both sides of the dilemma have decided to play it cool and squash the beef.
Yesterday…..Chris, Tyler the Creator, and Frank all announced via Twitter that they are moving on past the drama.
Check out their tweets below: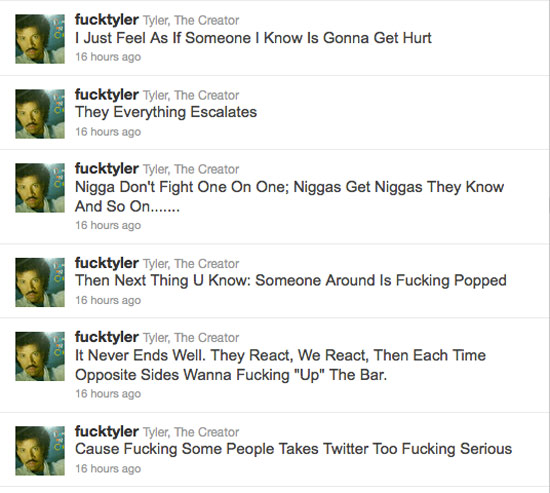 And of course….Game (the mediator) had to come in and say a few words too:

But what started this whole beef? According to MTV:
The online fracas began when Breezy gave Frank Ocean what seemingly was a compliment that Ocean took to be an underhanded slight.

Chris Brown's tweet read, "I f— with Frank Ocean! Reminds me of a young James Fauntleroy or Kevin Cossum" – James Fauntleroy is a singer-songwriter with writing credits for artists such as Brandy, Timbaland, Jordin Sparks and Rihanna. Kevin Cossum is a songwriter and producer who performed work with Mary J. Blige, Fabolous, Keri Hilson and Brown himself.

Frank Ocean took offense to Chris Brown's tweet with a retort that read, "[I] f—s wit chris brown, reminds me of a young sisqo or ike turner." Ocean then followed his comments with, "[I] just dont like underhanded comments. thats all im saying."

Angered by Ocean's words, Chris Brown took to Twitter and angrily addressed the OF singer. "[It] was a compliment you b—h ass n—a. Everybody claim to be the devil till they meet him," tweeted Brown. He followed with, "[F]–k odd future! Make sure y'all smalltime n—-s stick yo chess out when u speak to me."

Breezy later apologized to his followers but not before some tough talk aimed at OFWGKTA. "I was on fairfax (Odd Future stomping grounds) yesterday and your so called posse was super quiet. Get better soldiers!" Chris Brown then added, "To all my fans, I'm sorry these ignorant ass n—-s got me down to their level."

Odd Future captain Tyler The Creator, no stranger to beef with Breezy, earned himself a "Top Tweet" nod with a tweet to Brown that read, "Why Are You Mad Tho? Like Really, You're Bigger Than Us Christopher. You Act Like You Like To Eat Soup, Aren't You A Role Model?"

While Brown refrained from further igniting the drama, the following day Ocean and Tyler once again threw dirt on Breezy's name at a concert at the House of Blues.
Glad to know all of these guys could be mature about this situation and squash the beef!
Be the first to receive breaking news alerts and more stories like this by subscribing to our mailing list.