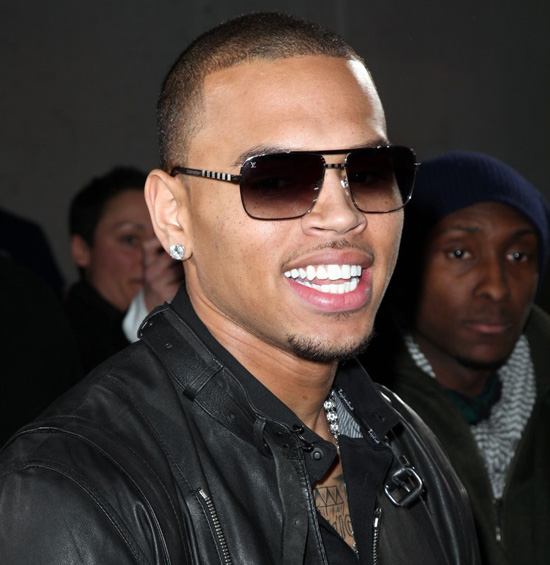 Okay, not ALL white people hate Chris Brown … just SOME white people.
After TMZ pointed out that the R&B singer recently said to an L.A. parking officer "y'all n**gas is gay" … other websites chimed in and started spewing hate towards him, which is pretty hypocritical in our humble lil' ol' opinion.
If they think it's wrong for him to use "homophobic slurs" (and since when did the word GAY become a homophobic slur?) … we think it's wrong for them to constantly pick apart every little thing he says and does. Plus, no one seemed to be offended with the use of the "N" word, right?
See what TMZ wrote below:
Chris Brown put the charms on a parking officer yesterday in L.A. — successfully dodging an expensive ticket — but in the process … he hurled another NASTY homophobic slur. Before sweet-talking the cop, Brown accused several cameramen of alerting parking enforcement officers that his car was illegally parked, ranting, "Y'all n**gas is weak. Did you all call them to try and film me? Y'ALL N**GAS IS GAY."

It's not the first time Brown publicly disparaged gay people. Back in December, the singer got into a Twitter feud with ex-B2K member Raz B … calling Raz a "homo" and a "d**k in da booty ass lil boy."

Smells like another insincere apology is in the wind.
So later, Chris Brown apologized to anyone he may have offended … and as usual, it wasn't nearly enough for (some) white people.
Chris Brown just lied through his teeth … tweeting that he has "total respect for [the] Gay community" after dropping another gay slur in L.A. yesterday.

He never apologizes … but instead writes a half-assed, dismissive explanation saying, "my intention was not to insult anyone."

Listen to the way he hurls the word around — Chris clearly used the word "gay" as an insult … no two ways around it.
And TMZ wasn't the only site going in on Breezy for using a word that actually used to mean "happy." Read what Gawker wrote below:
Hey guys, I have a secret for you: Chris Brown is an awful person. Crazy, right? The singer's latest faux pas took the form of a gay slur.

While being surrounded by paparazzi in Los Angeles yesterday, Brown said to the photogs "Y'all niggas is gay" as an insult or something. Ohhhhh brother. I guess this was better than"dick in da booty ass little boy" at least?

But still, you know what, Chris Brown? Why don't you crawl inside this cardboard box I've set up here and then I'll shut the lid on top of you and then I will mail you to Antarctica where you can rant at the snowy heavens all by yourself for the rest of time, thus leaving the rest of us free from having to deal with all of your dopey nonsense. If you get really lonely, maybe I'll airmail Katy Perry there too, and you two can harmonize on "Ur So Gay" until the penguins come to enact their penguin vengeance. Does that sound like a fair proposal to you?
Really guys? Is it REALLY that serious? We guess so!
Read what some of Gawker's hate-filled commenters had to say about Chris below: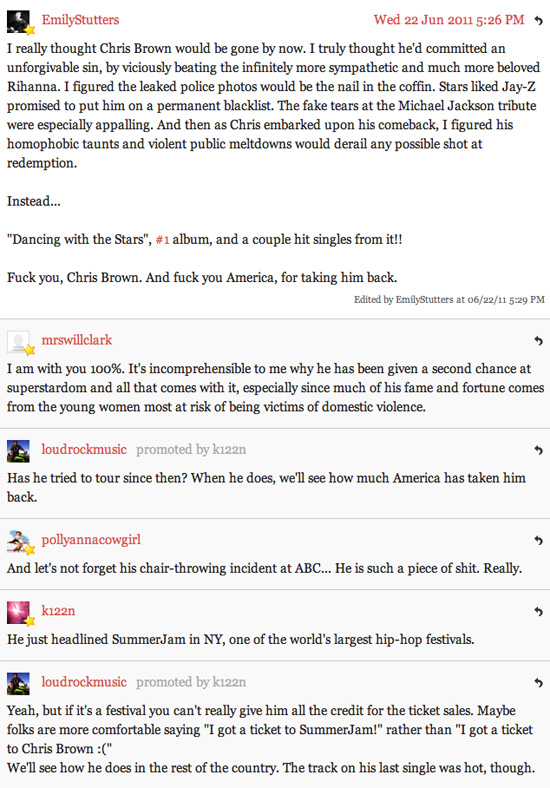 So … we've gotta ask:
Be the first to receive breaking news alerts and more stories like this by subscribing to our mailing list.