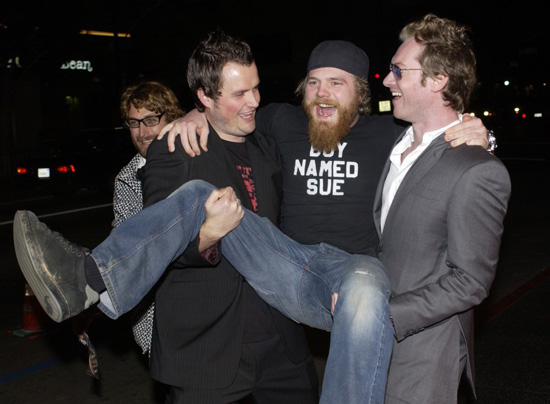 Pennsylvania police officials have confirmed that Jackass star Ryan Dunn was intoxicated at the time of his death.
The legal blood alcohol level in Pennsylvania is .08 but skater and stuntman Dunn, 34, allegedly had a blood alcohol level of .196 when he was behind the wheel during his fatal crash. A coroner's report revealed that Dunn and his friend Zachary D. Hartwell died of blunt force and thermal trauma from the impact of the wreck and the burns from the fire.
On Tuesday, police said the preliminary investigation results state that Dunn's Porsche was going at a speed of up to 130 mph before it jumped a guardrail and crashed into a ravine and burst into flames. This tragic incident occurred just hours after Dunn and his friend left a nearby bar.
An employee of Barnaby's saw Dunn the night before and told MTV News he "didn't seem intoxicated. He seemed like he was having a good time, hanging out with his friends…he only had a couple beers here. As far as we're concerned, the biggest thing, our hearts go out to the family and friends, and his loss is a big loss to our community. The biggest thing we're worried about is his friends and family".
Speaking with a member of FOX near the scene of the accident, Dunn's best friend Bam Margera, trying his best to keep his composure, said of his pal:
"I've never lost anybody that I care about; he's my best friend. He was the happiest person, the smartest guy with so much talent. He had so many things going for him. … It is not right. … It was the worst phone call I ever got in my life".
The accident occurred on Monday June 20th in West Chester, PA where both Dunn and Hartwell passed away. A private memorial for Dunn was held yesterday, and a public memorial is scheduled for later in the week.
Be the first to receive breaking news alerts and more stories like this by subscribing to our mailing list.