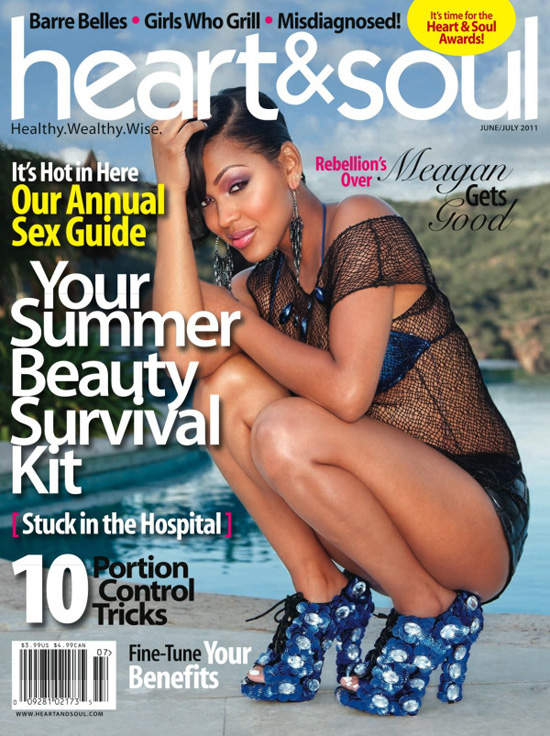 Everyone's favorite "girl-next-door" actress Meagan Good shows up on the cover of the latest issue of Heart & Soul Magazine.
Inside the June/July issue of the magazine, Meagan talks about her all girl rock band H.E.L.L.O. Girls (which she fronts alongside her sister Lamiya), her work-out regimen, how she's ready for a serious relationship and more.
The 29-year-old film and TV actress even shared how she made it through a cancer scare a few years ago. Click below for the excerpts:
On opening for Cee-Lo Green recently as part of H.E.L.L.O. Girls:
"Our songs sound like the Beastie Boys meets Gwen Stefani meets Vanity Six. Mostly, they have spiritual undertones, but they're not preachy. We're telling women to respect themselves."

On cutting back on read meat and juice in favor of seafood, grilled vegetables and water after she turns 30 this August:
"I cut out cheeseburgers all together, and I'm really sad because I love cheeseburgers."

On having cancerous cells in her uterus removed a few years ago:
"It didn't scare me. When people don't know they have something, they're fine. When they do find out, they get worse. A lot is attitude. When you're afraid and freaked out, that's when it worsens. I try to keep a positive outlook."

On her work-out regimen, which includes jogging about 3 or 4 times per week for 30 to 40 minutes:
"And I do squats so I don't lose my booty."

On her being ready for a serious relationship:
"I'm definitely at a point in my life where I am ready to find a partner in crime—in a good way—who respects my mind and treats me like a partner and a best friend."
Be the first to receive breaking news alerts and more stories like this by subscribing to our mailing list.