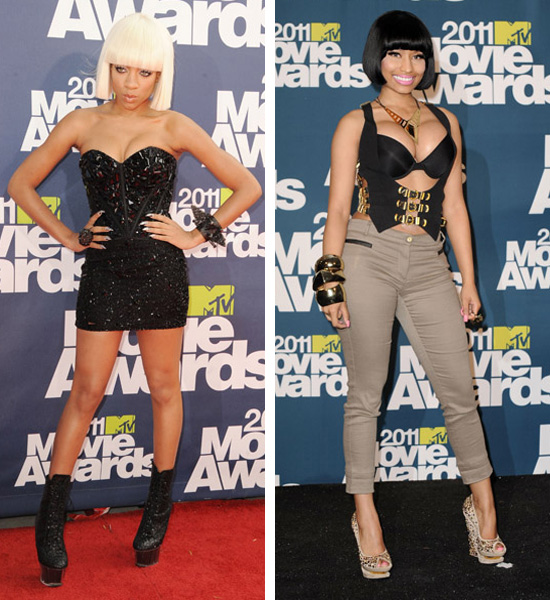 Lil Mama must be smoking some of that real good good … because she claims Nicki Minaj is biting her style!
The rapper turned MTV personality said all of this and more in a recent interview with Vibe Magazine, where she also reveals that she feels like other female rappers, including Missy Elliott and Lil Kim, feel "intimidated" by her.
Check out what the "America's Best Dance Crew" judge had to say about all of this below:
VIBE: Interesting thing is that leftfield style is actually becoming more of the norm. How do you react to folks saying your biting Nicki Minaj and Lady Gaga?
Lil Mama: Come on, let's be real okay. You have all these people wearing different colored hair. At the end of the day I'm a bombshell, so I'm going to do me. If I want to go platinum, I'm going platinum. Let's not forget that we have had people doing these things way before the people who are doing it now and let's also not forget that the black community sometimes we really hang ourselves because every time another black female gets up there and does something that may be current, we criticize each other and try to put each other down, but when Katy Perry and Lady Gaga do it, they all eat. But I'm not going to be a part of that. I'm going to do me, regardless.

Very valid point… I think the biggest style criticism was thrown at you this past MTV Movie Awards. Bunch of people thought you jacked Nicki's haircut.
But my cut is blunt and futuristic and Nicki Minaj started wearing that bob on her head after she came to my show, so at the end of the day I know what I do and I know what I possess and I know who I am. I'm a trendsetter. The biggest form of flattery is imitation so I'm flattered. I understand the universal law. I'm not confused, I don't feel like a follower. I started so many things that new artists are doing now anyway –my style, the way I'm aggressive on a track, the way I come through, the way my beat bangs. There are so many things that were borrowed, that I influenced that's happening in music right, so I'm far from discouraged.

Well there you go. Wait, Nicki went to one of your shows?
Yeah, she was a guest on America's Best Dance Crew and immediately afterwards, everywhere she went, she was wearing the haircut, the same exact way. But that doesn't make me feel like 'Oh she's trying to be down' like how I said about our culture. I'm actually flattered because she imitated me and it felt like something that I was doing was cute and in time for the fashion and for the season, so it's like let's live, let's do it.

When I first interviewed you back in the day, you mentioned how other female rappers didn't embrace you much. Has that changed or stayed the same?
It hasn't really changed. You know what, let me catch myself. MC Lyte definitely embraces me. Jada Pinkett Smith embraces me. Those are two people that I can call and get advice. Those are two people that will call me to see what I'm doing. I think that everybody else that's still on the radar like Missy and [Lil] Kim, feel so challenged right now. The root of female rap now is all about your swag and doing things independently. Everything is just boosted up to where these females who created the platform for us feel imitated. The kind of in that position right now where they feel like 'Don't get it twisted because I will drag you…'

Ha! Were you and Nicki at least able to chop it up after her episode of ABDC?
We didn't really get a chance to vibe out like that after the show. It was just business. It was a level of respect though. Despite of what anybody might hear or have to say through the web, internet, music, subliminals, or whatever, when people see me in this industry I am respected and I will be respected. Anything else goes under the rug so I don't see it. Whoever it may be, it's always a level of respect because I respect myself and I will be respected.

Word. I know your thing back in the day was being very mindful of your younger fans. Should we expect to hear some 21+ lyrics now?
I guess my sound has changed a little bit; I'm evolving. Lauryn Hill might have cursed a couple of times in her music and Missy Elliot definitely just doesn't care. I'm really more inspired by their creativity more so than just the cursing. I'm really impressed by clean music. I have a thing for it, but if I have to go there, I think I'm going to go there. It has to be something that you want to do. It can't be peer pressure. You have to be yourself… and that's what I do best.
In the words of Chad Ochocinco … #Chileplease!
Be the first to receive breaking news alerts and more stories like this by subscribing to our mailing list.