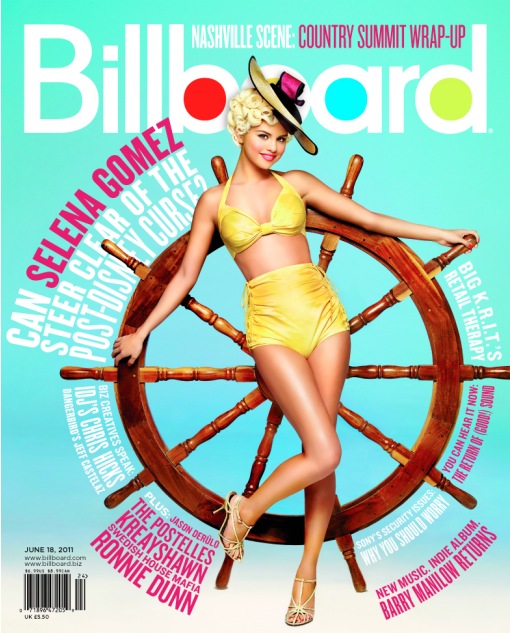 Selena Gomez looks like a 1950's pin-up model on the cover of the latest issue of Billboard Magazine, where she discusses an array of topics including her new movie and album, her "love/hate" relationship with the Internet and more.
Peep a few excerpts from the interview below:
On her "love/hate" relationship with the Internet:
"I have a love-hate relationship with the Internet. I don't like it in general — it's vicious. But it's also incredible that I can connect with fans, because I love to hear their feedback and let them know about my life."

On having both a new movie and a new album coming out at the same time:
"It's obviously an important phase in my career, and personally. The good news is I have been juggling acting and singing for two-and-a-half to three years. But I have to start over in some areas. It's interesting to start taking risks, to grow up through my music."

On her upcoming album When The Sun Goes Down:
"It's techno dance. Pop is something I'm most comfortable with and these are producers who know me and know the direction we want to go in. The songs are tailored to me and my style. I'm very lucky."

On her mom protecting her as her manager:
"My mom has been my manager since day one. She helps me make choices correctly. She protects me."

On fellow Disney Channel alum Shia LaBeouf:
"He did it really well. He's talented and doing wonderful things. Everybody has their own vision of how they want things to play out."

On making music in Spanish:
"Eventually I hope to make a record in Spanish. I don't do anything that's not organic. I don't like putting my name on anything I don't approve."

On being "unplugged:"
"I love stripping the music down to bass and guitar. [It] gives the songs a whole new meaning."
Click Here to read the full interview from the issue!
Be the first to receive breaking news alerts and more stories like this by subscribing to our mailing list.