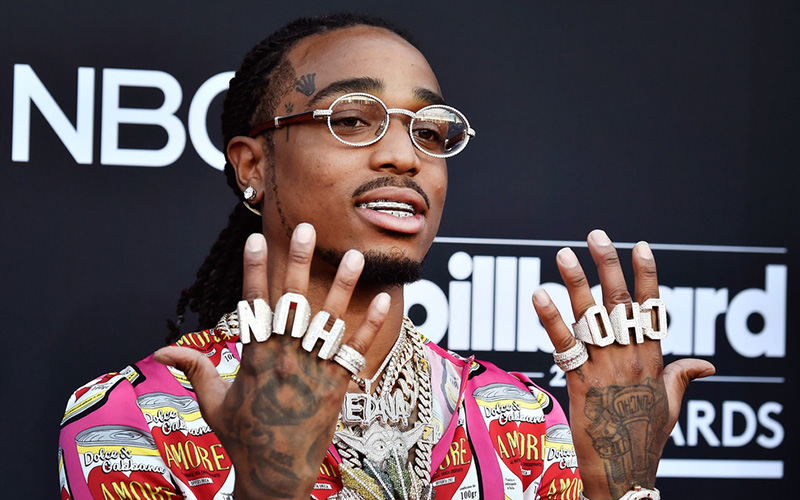 Quavo was the only Migos member who attended the Billboard Music Awards Sunday night (May 20) in Las Vegas.
Before the show's festivities kicked off, the rapper was asked about the condition of his cousin and groupmate Offset, who was banged up pretty bad last week after getting into a car accident.
"My boy Offset got into a bad car accident, but he doing fine, he up and running, he up and walking, ready to work," Quavo told Billboard. "He should be back working real, real soon. It's a blessing that he's still here. God is good."
God really is good, because Offset released a bunch of photos from the crash showing off his injuries and how badly the car was wrecked, and it's a miracle he made it out not only alive, but with what's considered pretty minor injuries.
Quavo also talked to Billboard about new music and revealed that Migos are working on some new projects right now, including some solo tracks, but he didn't want to reveal too much.
"We got a lot of projects coming this summer," he teased. "This July, we got DJ Durel. He gonna be releasing a lot of our solo songs on his album, so we do got solo singles that's coming this summer."
The rapper Migos frontman also opened up about lending some backing vocals to Childish Gambino's "This Is America," which he called "amazing" and "a blessing."
"It's overwhelming," he continued. "Me and Donald got a good history, you know, he shouted us out at the awards and we've been on Atlanta, and him going back and forth… our communication and our connection is real strong, so whenever he calls me and says, 'Let's do some music,' we'll just pull up and just work."
Be the first to receive breaking news alerts and more stories like this by subscribing to our mailing list.