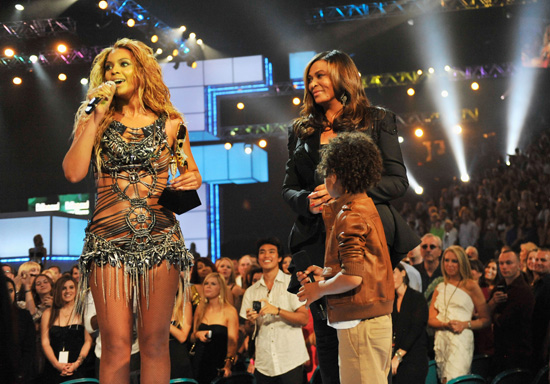 Beyonce shined in a big way Sunday night (May 22) at the 2011 Billboard Awards, held at the MGM Grand Arena in Los Vegas. The singer, who served up a show-stopping performance of her new single "Run the World (Girls)" during the ceremony, was presented with the first ever Billboard Millennium Award by her mother Tina Knowles and her 6-year-old nephew Julez.
Just before her performance, in addition to Tina and Julez, her father and former manager Mathew Knowles, as well as Lady Gaga, Barbra Streisand, Stevie Wonder, Bono, The Dream, "Baby Face" and even First Lady Michelle Obama were shown in a video tribute honoring Beyonce for her achievements in both her career and her personal life.
Immediately following Beyonce's stellar performance, her mom and nephew presented her with the Millennium award, which she accepted graciously.
"First of all I want to thank Billboard Awards for being so wonderful to me and my crew," she said, still trying to catch her breath. "I'd like to start off by thanking my foundation, which is my family. Mom, you have taught me everything I know by example, and you are a phenomenal woman and I love you so much. I love you too, Julez.
"I'd like to thank my father for teaching me so much about the music industry and teaching me about drive, and teaching me about work ethic. Thank you, Dad. I'd like to thank Kelly and Michelle from Destiny's Child. I wouldn't be standing on this stage if it wasn't for y'all. I'd also like to thank the original members of Destiny's Child, Letoya Luckett and Latavia Robinson."
And not only did she surprise the world by thanking the original DC members, but in an even rarer moment, the usually coy Beyonce, who is known to not speak publicly about her marriage to rapper Jay-Z, said this:
"I'd also like to thank my best friend. Now I don't want to put you on the spot, because I know they probably putting the camera in your face right now, but I love me some Jay-Z."
Beyonce's fourth studio album, aptly titled "4," is due for release on June 28th!
Be the first to receive breaking news alerts and more stories like this by subscribing to our mailing list.