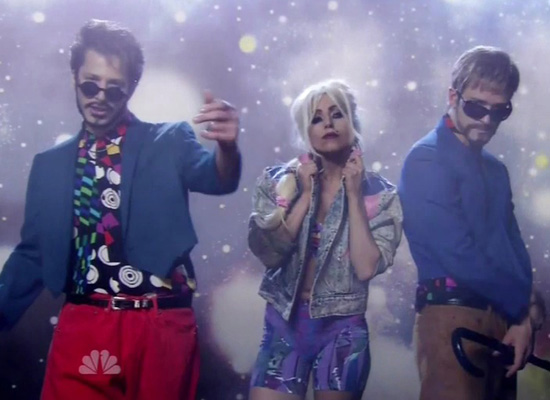 Over the weekend, "Saturday Night Live" aired its season finale, which saw platinum selling crooner Justin Timberlake take the reigns as the evening's host, and fellow pop sensation Lady Gaga as the musical guest.  And we must say … these two pop megastars totally KILLED IT!
Some of the night's highlights were:
Justin, Gaga and Andy Samberg in "Three-Way": Gaga jumped in to help Justin and Andy continue their hilarious string of skits, which included "D— in a Box" and "Mother Lover," for the "Three-Way" skit in which they explain the "Golden Rule" that a three-way with another guy is a "gray area." (Fact!)
"Bring It Down" Part 2: JT's 2009 "Bring It on Down to Plasticville" sketch, in which he wore a breast implant costume, was one of his most popular to date. And he took it to the next level Saturday night by dressing up as a beer bottle and singing odes to "Liquorville," while Kristin Wiig sang in a teabag costume. Lady Gaga later comes out to help Justin … dressed in a wine bottle!
Gaga Baby: The singer performed hits like "Judas," and "Edge of Glory," then it was no surprise that she'd sing her mega hit "Born This Way" as her final number. What was surprising was that she came out with a pregnant belly partway through her performance, then gave birth onstage … to glitter!
See Justin and Gaga's  hilarious SNL clips, as well as Gaga's performances, below:
Lady Gaga's "Born This Way" Performances
Justin Timberlake's monologue
JT, Gaga and Andy Samberg's "Three-way" Skit

Gaga's "Judas" and "Edge of Glory" Performance
judas & edge of glory
JT and Gaga's "What's That Name?" Skit
JT and Gaga's "Bring it on Down to Liquorville" Skit
Be the first to receive breaking news alerts and more stories like this by subscribing to our mailing list.