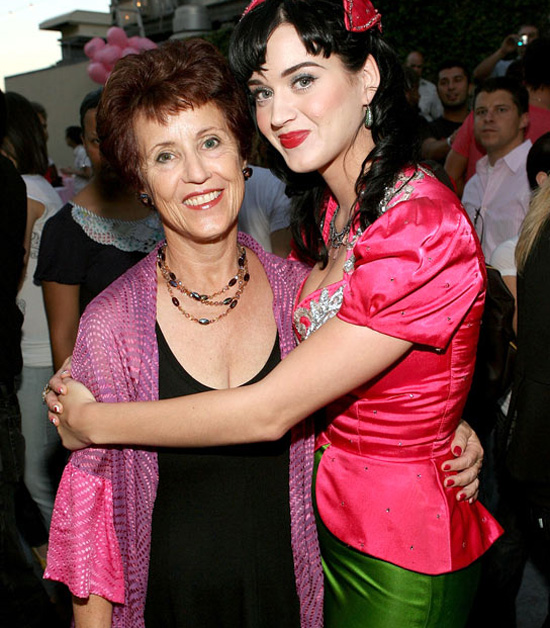 Before Katy Perry became an international pop star she was merely the quiet daughter of two Christian pastors.
Turns out, Katy's mom, Mary Hudson, liked her better that way. Katy's dad, Keith Hudson, recently revealed to Star Magazine there's "quite a bit of tension" in the family right now because of Mary's upcoming memoir, which deals in part with Katy's superstar success.
In one passage, Mary laments Katy's provocative wardrobe. "Katy stepped out from behind the changing doors in a tiny risque costume. No mother wants to see the top of her daughter's boobs…" Mary says.
Both Katy's parents are evangelical Christian ministers, something Katy has both celebrated and complained about in past interviews. She once poked fun at her mom for not letting her watch the "Smurfs" as a kid (Smurfette was too "slutty") after she was cast as Smurfette in the upcoming live action movie.
Katy said at the time, "It's just like another one of those days where it's like, 'Guess what, Mom: I kissed a girl! Guess what, Mom: I'm going to be naked in a music video!'"
Perhaps your wondering about the sexually driven "Kissed a Girl." Mary addresses her mixed feelings about Katy's first hit song, too.
"I recognized the psalmist gift in her performance. Yet she sang out, 'I kissed a girl, and I liked it,' while thousands joined her," Katy's mom writes. "One part of my heart soared… the other part broke for the thousands of hungry souls being fed something that didn't nourish their spirit, but fed their flesh."
Still, Mary insists her new memoir is about her Christian faith, and "not some kind of tell all book about my daughter."
Yeah …. right.
Be the first to receive breaking news alerts and more stories like this by subscribing to our mailing list.