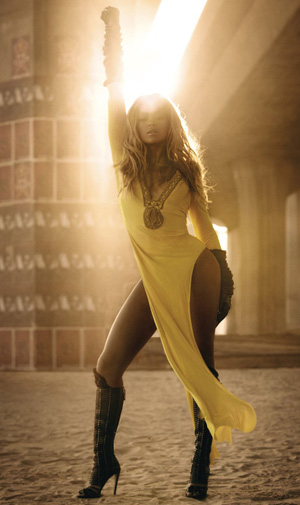 Beyonce is one of the hardest working women in the game, and she proved just that when she turned in nearly 100 new tracks to her record label for her upcoming album.
The Queen of Pop (as noted by Billboard last year) is expected to drop her fourth studio album, aptly titled "4," this summer, and she gave staff at Columbia Records plenty of material to choose from when she arrived in their offices last week with over 72 tracks for them to listen to.
"Label staff leave Beyonce to get on with things, they tend not to interfere when she's making an album," a label source said. "But they weren't prepared for the sheer volume of material she presented to them. She's clearly been very productive. Now they have the hard job of going through all the music and deciding what will make (the album)."
72 tracks? Whew, good luck with that!
Meanwhile, the eagerly anticipated music video for "Run the World (Girls)," the first single from Beyonce's new album, will premiere this Thursday night (May 19) on American Idol. It was supposed to be released last Friday on Vevo, but Beyonce delayed the premiere to add a few more personal finishing touches to it.
Our friends over at Just Jared got the rare opportunity to preview "4" last week in New York City and also got the chance to check out the "Girls" video. Check out their thoughts on the video below:
It's everything we hoped it would be – amazing!

The video starts and ends with Beyonce riding her horse, except there's fire involved in the closing scene. A lion walks into one of the dance numbers and Beyonce has two giant hyenas on leashes in another scene.

The room went crazy during two parts of the song. The first was when Beyonce sings "eff you" and gives the middle finger (albeit pixelated with a censor). The second was when Beyonce is on her knees, bent backwards, and writhing around in the sand. It's reminiscent of the sand dance sequence in her "Baby Boy" video.

The dance sequences were choreographed by her longtime friend Frank Gatson with help from Sheryl Murakami and Mozambican kwaito dance group Tofo Tofo. Beyonce had scoured the Internet and discovered Tofo Tofo on YouTube. The funny thing is they had no idea who Beyonce was when she reached out to them! (Tofo Tofo gets down with Beyonce in a few of the dance numbers.)

Beyonce had walked into the room after her fans watched the "Run the World" video, so after the album preview, she had the video played again. "I've never watched it with a group of people before, so I'm excited," she said. So the fans got to see the video not once, but twice!
Sounds exciting! Beyonce is back folks…
Be the first to receive breaking news alerts and more stories like this by subscribing to our mailing list.