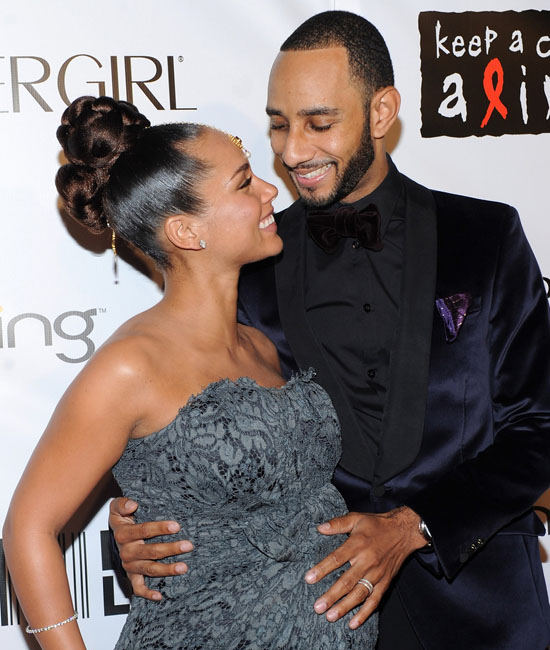 Despite being revered worldwide for her chart topping hits, Alicia Keys has for some time now been synonymous with the word "homewrecker" since she and her now husband Swizz Beats went public with their relationship back in 2010.
According to Swizzy's ex-wife Mashonda, Keys is responsible for the break-up of their marriage because she allegedly pursued him while the two were still married. However, after keeping silent on the matter for so long, Keys finally tells her side of the story in her cover story for the June  2011 issue of Essence Magazine.
Check out what she had to say below:
On her husband Swizz Beatz and their 6-and-a-half-month-old son Egypt:
"I was very closed for a long time. But I feel so open now. To feel open like this means you've found the center in yourself. You're not hiding; you're not worried about anything. Everything's going to be just fine."

On her step-children (Swizz has three kids from previous relationships):
"'Kasseem is very present in his children's lives. I wouldn't be able to love him otherwise. We are doing what is best for the children."

On Swizz's ex-wife Mashonda's allegations that Alicia broke up their marriage:
"We didn't start seeing each other until months after they had separated. I was aware of all the false things that were being said about me, it definitely hurt. I was sure that if I engaged, it would become back-and-forth like some sick entertainment, which goes against everything I believe and would have made things worse."
Honestly, at this point we don't know who to believe. There's always three sides to every story: One person's side, the other's, and then there's the truth!
Be the first to receive breaking news alerts and more stories like this by subscribing to our mailing list.