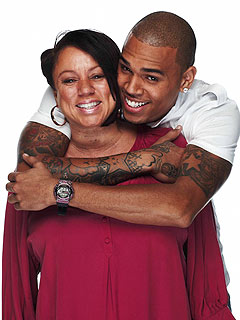 Joyce Hawkins, mother of R&B sensation Chris Brown, is addressing her son's 2009 assault on former girlfriend Rihanna, as well as his recent spaz out on the set of "Good Morning America," saying Breezy needs to face his actions in order to fully move on from the incident.
"He has to learn to deal with it and go on with his life," the 'Beautiful People' singer's devoted mother told Sister 2 Sister magazine. "This is something that happened; it was a huge mistake… It was not good at all. But he is still a human being and we all make mistakes and we live and we go on with it."
Though Chris had previously appeared to have significantly addressed his anger issues, his violent outburst on the set of "Good Morning America" last March was a reminder that he still may have some very serious problems controlling his temper.
"I think he really needs to talk about the situation in itself, what actually happened to Rihanna… So that he can get that out for himself," Hawkins continued, conceding that he should also prepare himself to field questions about the 2009 incident with Rihanna for the rest of his career. "He needs to learn to deal with it and answer it, no matter what."
We get where Mama Joyce was going, but this sounds like a discussion a mother and son should have … IN PRIVATE!
Be the first to receive breaking news alerts and more stories like this by subscribing to our mailing list.