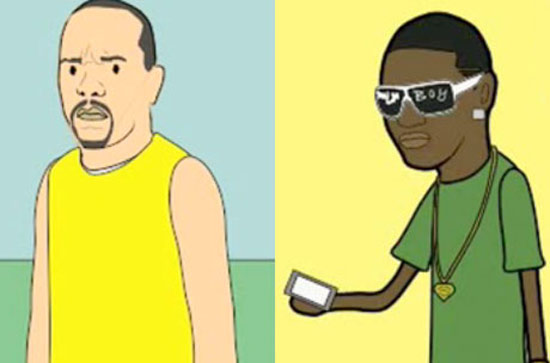 Ice T was nothing short of stunned when he heard his 2008 nemesis Soulja Boy was remaking the Tupac classic movie, "Juice".
During a recent interview on Shade45 Radio, he surprisingly said:
"What? But that's Pac… At some point, somebody gotta stop it. I came out. I made some statements. Man, I don't know. Do you, dude, do you. If the masses accept it, it shows you the state we're in… Come on man, you think I'd try to remake Pac's movie?"
Way back in 2008, the rappers exchanged some harsh criticism towards each other which was initiated by Ice T, when he disparaged the young rapper's credentials. And just like the last incident, The "Crank That" rapper has come back with some fighting words for the OG.
He tweeted:
"I'm done with this n—a. someone get this guy a hairline asap. If your name is Ice-T you are #losing not #winning better yet you #lost"

"Ice-T I tell you what bring your dirty ass to atlanta and do a show if you don't get booed off stage I will top hoeing you. until then u lame"

"Ice-T need to sit his old ass down n**** always got my name in his mouth damn bra nobody care what you think bruh"
Ice T of course responded back and had a few words to say of his own.
"Hip Hop is so wack that blog n—az try to start beef over nothin.. Come on son"

"For the record..I ain't thinkin bout none of this rap GOSSIP bullshit.S–t is corny. Hip Hop! Talk about the music..not manufactured drama."
We think it's safe to say that a 2008 rematch is on the cards!
Be the first to receive breaking news alerts and more stories like this by subscribing to our mailing list.