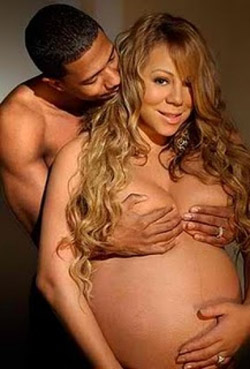 Mariah Carey and her husband Nick Cannon welcomed a twin boy and girl into the world last Saturday (Apr 30) on their 3rd wedding anniversary, and for days, the couple teased press and their fans about the names of their newborn twins.
"So we r bout 2 reveal the actual names and b4 we tell em 2 our friends etc.," she tweeted earlier this week. "I had 2 C if any of the #lambily wanted 2 guess!!! Both begin w/M's!!!!"
Now, the R&B diver and her husband of 3 years have finally revealed the "unique" names of the tiny tots.
Carey's longtime manager Cindi Berger told CNN that Mariah and Nick's daughter is named Monroe Cannon (after mommy's idol, Hollywood icon Marilyn Monroe), and their son will go by Moroccan Scott Cannon, who is named after the "Moroccan Room" in Mariah's North-African themed New York apartment. The Moroccan Room is also where dad proposed to mom back in 2008.
The baby boy's middle name, which he shares with daddy Nick, is also the maiden name of Cannon's grandmother. Monroe wasn't given a middle name on account of mommy MiMi not having one either, the superstar's spokesperson said.
Be the first to receive breaking news alerts and more stories like this by subscribing to our mailing list.