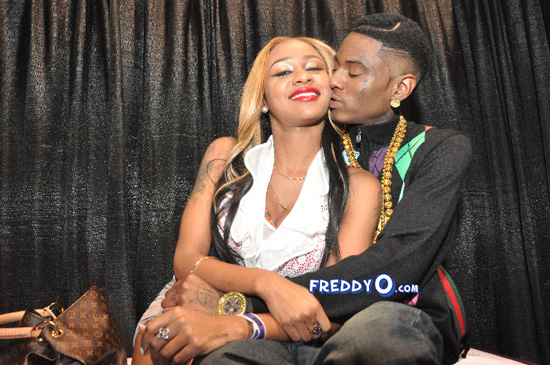 Atlanta rapper Lil Scrappy's mama is not a happy camper. And it has everything to do with Diamond (Scrappy's now ex fiancee) dumping her son for another ATL rapper …. SOULJA BOY!!!
Upon learning that Diamond, former member of rap group Crime Mob, was hooking up with Soulja Boy, Scrappy's mama (aka Mama D) went in on Diamond live on the radio in Atlanta this week. Calling her a "dirty low down b*tch," Mama D was not pulling any punches when she let Hot 107.9 know how she felt about Diamond.
"Okay, the b***h done got breast implants and booty shots, the b*tch ain't real first of all," Mama D said. "Secondly, Soulja boy is gonna come behind him anyway. So at the end of the day Scrappy is chilling, he's fine, he's the Prince of the South and he got it good."
"She lied like a motherf**ker!" Mama D shouted on the radio. "Called Scrappy back, talking about I was just hanging out with him. Whooooooo! I want to put my hand around that b***h throat. I want you to go on the radio and say 'Mama D is angry because you don't mess with Mama D son.' But you know what ladies and gentlemen? Her son is doing good. The Prince of the South is still the reigning prince because he's chill like that, he's gonna keep it pimpin'."
"It's f'd up how she did it … low down dirty b*tch," she continued. "She's lucky I don't take [inaudible] and pimp her azz. She gonna give it up like that, she might as well get some money for it hoe. Scrappy, Mama D, we gonna keep it G, ya heard me? Let the radio know that Scrappy the Prince of the South is still the reigning Prince and he's chilling on South Beach, okay, with a beautiful lady. He ain't stunting that sh*t there, he's all good."
WOW! Mama D went INNNNN!
Check out pics of the "new couple" (courtesy of the homie FreddyO) all boo'd up at the car & bike show in Atlanta over the weekend below:
Be the first to receive breaking news alerts and more stories like this by subscribing to our mailing list.