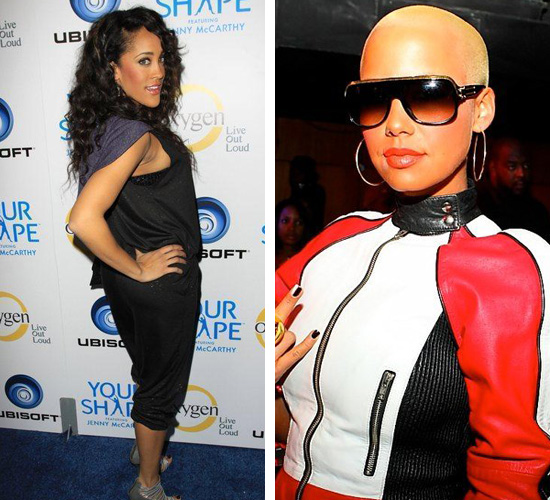 This is just pitiful.
Apparently the beef between perennial D-List stars Natalie Nunn and Amber Rose is far from over.
The 'Bad Girls Club' star recently appeared on Street Disciplez Radio, and held nothing back when asked about  her arch nemesis and professional Hip-Hop groupie Amber Rose, who is currently dating her former fling, rapper Wiz Khalifa.
According to Ms. Nunn, Amber's former assistant reached out to her to inform on the former stripper's alleged obsession with her. Look below for all the details:
"This is gonna be exclusive, you guys are going to get the exclusive right now. Let me tell you some exclusive sh*t. I'm again minding my own business, just landed in Panama City, I got an appearance, I hit the beach real quick, I look down at my phone real quick and one of my homeboys is like, 'Yo, Amber Rose's assistant is trying to get your BBM, she wants to holler at you.' About what? He connects the BBM in a chat room and Amber Rose's assistant is going in on Amber Rose. Talking about, 'She's steady staying on your Twitter, she steady worrying about what you're doing. She don't even give a f*ck about Wiz [Khalifa]. She's just worried about what Natalie Nunn's doing.' But every time I try to tell people what the f*ck the real is, they point their finger at Natalie. She's the motherf*cking bad guy."
Natalie went on to allege that Amber's former assistant quit because Amber's too broke to pay her:
"[She] just recently quit on Amber Rose because the b*tch ain't got no money to pay for her motherf*cking assistant. Yo, yo, let me tell you something. Let me tell you something. These n*ggas can go ahead and sugarcoat whatever the f*ck they want….when I put my motherf*cking money in the bank every day, that's my motherf*cking money."
During the interview, Natalie also aired out her issues with Fabolous, who's made reference to her in a few of his mixtapes:

"I look at my Twitter and everybody's like 'yeah Natalie did you catch Fabolous talking about you on his mixtape?' Why are you talking about me on your mixtape? The last mixtape he dropped I was in the last mixtape. How many mixtapes are you gonna put Natalie, who is more relevant than I guess whatever you have to talk about.

"I'm tired of this extra sh*t. I'm minding my own business and you put out a mixtape talking about me again? And it ain't even your situation—at least make it relevant to you, this is your mixtape. You're talking about another n*gga and what he's doing with some other female, that's some b*ch sh*t."
Spoken in true "bird" fashion. SMH … Check out the interview in its entirety below:
Be the first to receive breaking news alerts and more stories like this by subscribing to our mailing list.