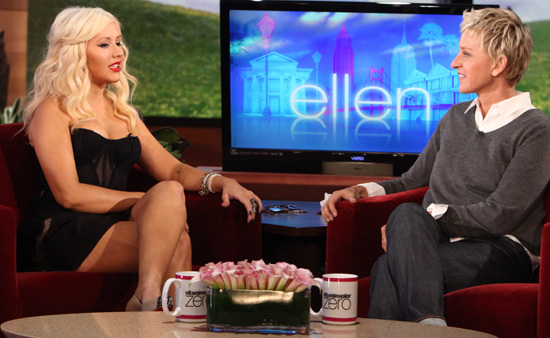 During this past Tuesday's episode of "The Ellen DeGeneres Show," pop crooner Christina Aguilera opened up about her infamous botch job on the lyrics to the Star Spangled Banner during this year's Super Bowl.
"I had been singing that song my entire life," said the singer, who now headlines NBC's new singing competition series, The Voice. "I was the youngest anthem singer in my hometown of Pittsburgh, PA. I sang for the Steelers when I was this big," she said, referring to her pint size childhood stature. "I think 7 or 8 years old. I would sing for them. I think had a moment where I was at the Super Bowl at 30 years old. I took in the moment a little bit too much. Shoot me for appreciating the moment but here I am at the Super Bowl … singing for a team and in front of the world. And remembering what it was like to be that young and look where I made it now."
Christina claims that after her flub, "that night I knew, I just made myself a Trivial Pursuit question. 'In 2011 what female singer, ya know, flubbed the lyrics.' It's just insane."
In the end, she said, "I have a really good laugh about it and you get over things. You get back up again and you just prove to yourself and to everyone you that much stronger."
Check out footage of her gabfest with the hilarious Ellen DeGeneres below:
Be the first to receive breaking news alerts and more stories like this by subscribing to our mailing list.