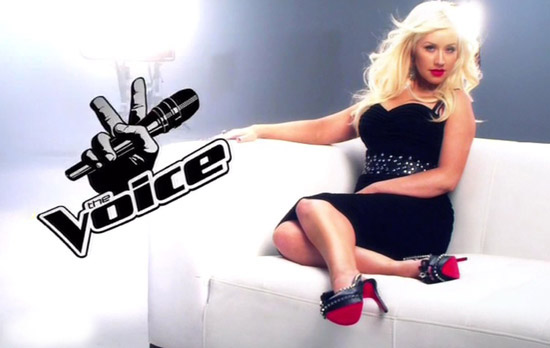 Christina Aguilera #failed a lot over the past year or so.
From her divorce, to the underwhelming responses to her album Bionic and her movie "Burlesque" (both released last year), flubbing the national anthem during this year's Super Bowl, tripping on stage at the Grammys, and the countless headlines that left people thinking "WTF are you doing Christina?!" 2011 (and part of 2010) just hasn't been very friendly to her.
But now that she has scored a judging gig on NBC's new talent competition show 'The Voice,' the Pop star is glad things are turning around. "The last year has probably, with the divorce and considering everything that's gone on, has humbled me a little bit," she says with a laugh.
Aguilera says The Voice represents a new beginning for her in every sense. The concept of the show intrigued her and took her back to why she started singing. "Being in this business for quite a few years now, sometimes you do take things for granted. I've had my ups and I've had my downs. You have to take the good with the bad in this business. It gets me back to the root of why I got into this business, and that's real, raw talent," says Aguilera, 30.

The show films in Los Angeles and has allowed Aguilera to stay near her son, Max, 3, and record her new album. The next release, Aguilera says, will focus on her personal evolution. "For this one, I really want to make a real rooted, heartfelt record. After someone goes through the things that I have, regarding a divorce, there's a lot of emotions that are stirred," she says.

Aguilera, whose towering talent has never been questioned, says she keeps right on going, even when things get tough. "I prove to myself that I'm stronger than just to let things take over me, and take over my head space," Aguilera says. "I'm very honest with myself in seeing if there are things that I need to change about my life, or if there are things I need to do stepping forward. That's in part why I got the divorce. It's a new beginning for me. It's all positivity for me. I've been through some hard things, but I'm on the up and up. "

The advice she would most want to impart to the contestants she's coaching on her team? To always follow your gut and focus on why you're making music. It's not about the freebies or the fame. "There's so much in the media and in the press, opportunities to get swayed. That's why I stay so far away from reading anything about myself. I love to sing. It's what moves me and inspires me. To be able to do that is a gift."
Catch Christina Aguilera, as well as co-judges R&B singer Cee-Lo Green, Maroon 5 frontman Adam Levine and country singer Blake Shelton on the premiere of "The Voice" tomorrow night (Tue. Apr 26) on NBC at 9pm!
Be the first to receive breaking news alerts and more stories like this by subscribing to our mailing list.