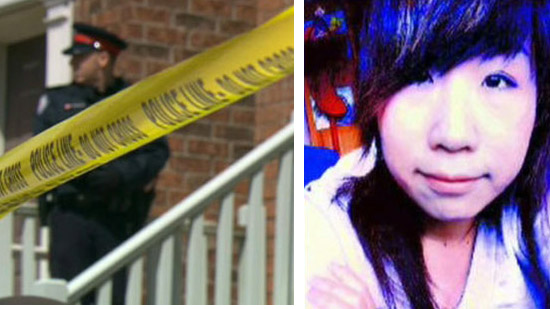 While he chatted with his girlfriend over a webcam from China at around 1 a.m., a Beijing student says there was a loud knock on her door in Toronto, Canada.  A man entered shortly after and a struggle ensued.
Just hours later, 23-year-old Qian Liu's body, naked from the waist down, was found in her basement apartment after her landlord went to check on her.
Liu's boyfriend told CTV about their last video chat:
His webcam conversation with Liu was interrupted when she heard a knock at the door at about 1 am. "She opened the door and it looked like they knew each other pretty well," said the man who requested anonymity. "They said hello and he borrowed her cell phone."

The victim's boyfriend said although it appeared that the man wanted to hug Liu, he saw her refuse. "He wanted to hug (her) but she said no and fought back," he said. "I was so helpless, I could not calm down until in the end the guy closed the computer."
As police conduct their investigation, users of Toronto's Chinese-language message boards are conducting their own via rumor and speculation. A former acquaintance has been pinned as a key suspect by the online rumor mill, and a picture has been widely-circulated. But cops say "we're not solely looking at this one individual," according to CTV.
Just sad.
Be the first to receive breaking news alerts and more stories like this by subscribing to our mailing list.