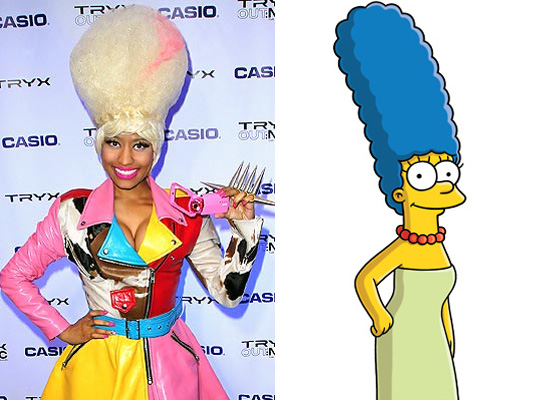 Not just known for her skills on the mic, Nicki Minaj is also forward thinking when it comes to her crazy and eye-catching wigs!
With unconventional hair styles that get called into question, Minaj says it's the diverse styles that make her happy the most. In an interview with PEOPLE Nicki explained of her current Marge Simpson look a-like blonde beehive:
"Never did I think I would be rocking the Marge Simpson. But you know what, now that I am wearing them I realize that she was cutting edge and before her time. So shout out to Marge!"
So why does the Young Money rapper change up her look so often?
"My wigs are ever changing in height, width, color, size. They make me feel happy," the Young Money femcee explains. "Wearing them makes me feel that I can be a different person every day and that is kind of exciting. Sometimes I wake up in the morning and I am like, 'This is a high-top day' or 'This is a bob day,' but when I get my clothes on that's when I see."
Well, thanks to her hair stylist Terrence Davidson she is never short of a new look: "I always have lots of wigs to choose from. Terrence, my hair dresser, is always on the prowl. He is always making new stuff, and we talk about new styles as the days go by."
(Sigh) What would the world be like without the colors of Nicki and her wig?
[PEOPLE]
Be the first to receive breaking news alerts and more stories like this by subscribing to our mailing list.