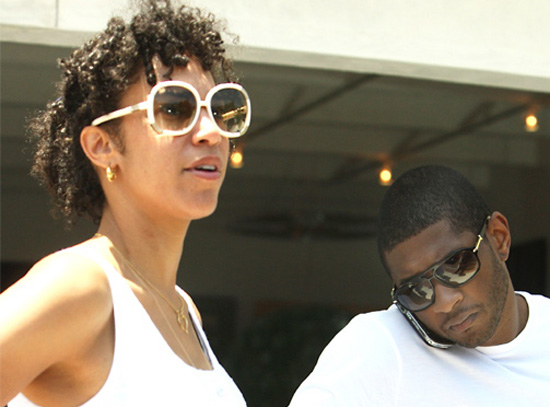 For decades Mama Raymond called the shots in Usher's life, but now it looks like his longtime girlfriend Grace Miguel is now picking up right where she left off. Miguel, a 43-year-old former Def Jam executive who acts as the hip-hop artist's co-manager and stylist, is urging her pop superstar beau to clear out his entire staff, including stylists, choreographers and tour managers, and replace them with her people, an insider says.
Usher's former longtime agent, Mark Cheatham of CAA, was the first victim of Grace's firing ways. Usher, 32, started his career with Cheatham and introduced him to teen sensation Justin Bieber, whom he currently represents.
When Page Six attempted to contact Mark about Ursh & Co. giving him the pink slip, Mark had this to say: "I don't know anything about it. I've been with Usher for a long time," he told them. "I've been on great terms with Usher. Talk to my publicist."
A CAA publicist never got back to the paper, but Usher is no longer listed on their client list.
A source close to Cheatham reveals: "Mark is really upset. He's been with him from the beginning. He thinks Usher will come back, He's just waiting." The source went on to say that "Usher will do whatever she wants him do right now"
SMH. We hate to see a brother p**sy whipped. This truly breaks our hearts!
Be the first to receive breaking news alerts and more stories like this by subscribing to our mailing list.