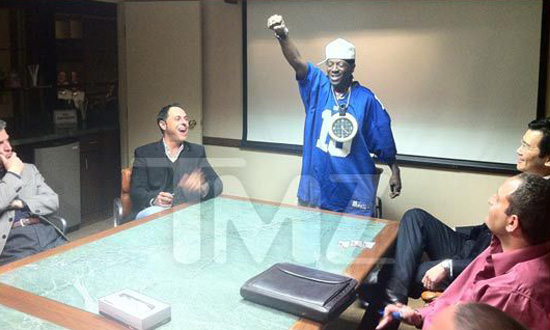 Flavor Flav is serious about his chicken. After recently meeting with the CEO of Riviera Casino in Las Vegas Monday (Apr 11), the rapper-turned VH1 reality star-turned chicken restaurateur wants to take his chicken joint — "Flav's Fried Chicken" aka "FFC" — straight to Sin City!
All the details are below:
Flav took the Riviera boardroom by STORM Monday during a meeting with casino bigwigs — including CEO Andy Choy — and sources close to the deal tell TMZ, Operation Fried Chicken is basically a go in Sin City … pending some last minute number crunching and contract kinks.

It'd be a huge move up from his first location in rural Iowa — according to sources, Flav's Fried Chicken would occupy some PRIME real estate inside the hotel … once the deal goes through.
And if you thought THAT was something, get a load of this. Flavor Flav was supposed to be doing a reality show about going to high school, but according to recent reports, that will not be happening right now all on account of him working on ANOTHER reality show. This one will center around his original "FFC" chicken restaurant in Clinton, Iowa and will give audiences the opportunity to see what it's like running a franchise.
"As long as the content is right, it is very likely (to be picked up)," Flav said about the show, which he says will feel something like 'Happy Days.' "This is an idea I've been having for a while. When my manager told them about this idea, they jumped on it."
Meanwhile, Flav is at the center of a dispute with his restaurant's workers who claim they haven't been paid since the place opened. But the company's co-owner Nick Camino says the problems have all been worked out, and the workers have been paid. As far as everything else about the restaurant is concerned, Camino says there have been a few bumps, but everything is under control.
And as the co-owner of a restaurant owned by Flavor Flav … that is exactly what he should say.
Be the first to receive breaking news alerts and more stories like this by subscribing to our mailing list.