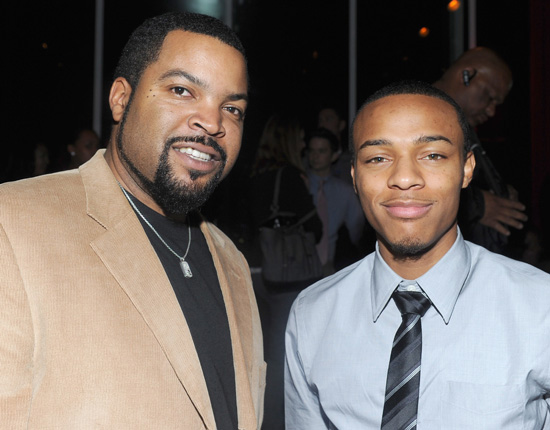 Cash Money rapper Bow Wow, is set to bring his acting talents to the small screen, via a new partnership with Hip-Hop legend turned Hollywood movie mogul, Ice Cube.
Bow Wow, who has starred in two Ice Cube produced flicks ("All About the Benjamins" and "Lottery Ticket") is re-teaming with the hit director on an upcoming, untitled sitcom, and even managed to hook up his longtime mentor Jermaine Dupri by hiring him to score the entire project.
"I partnered with Ice Cube and he is producing my sitcom," the rapper told All Hip Hop. "I told JD when Will [Smith] had his own show ["The Fresh Prince of Bel-Air"], Quincy Jones did all the music so it's only right that he does mine. So I got him doing all the scores to the TV show. I speak to JD daily."
Bow's as yet untitled sitcom is still in the early stages, so while details were scarce, the rapper revealed that the deal had just been signed and writers were currently being sought for the television show.
"Once we get that we will have a name and we will definitely be filming this year, you'll be hearing a lot about that," Bow Wow told AllHipHop.com.
This, ladies and gentlemen, is what we like to call "perfect timing." If Bow wow is serious about being a rapper/actor, he definitely needs to get some more major projects — including TV shows — lined up. Looks like he's heading in the right direction!
Be the first to receive breaking news alerts and more stories like this by subscribing to our mailing list.