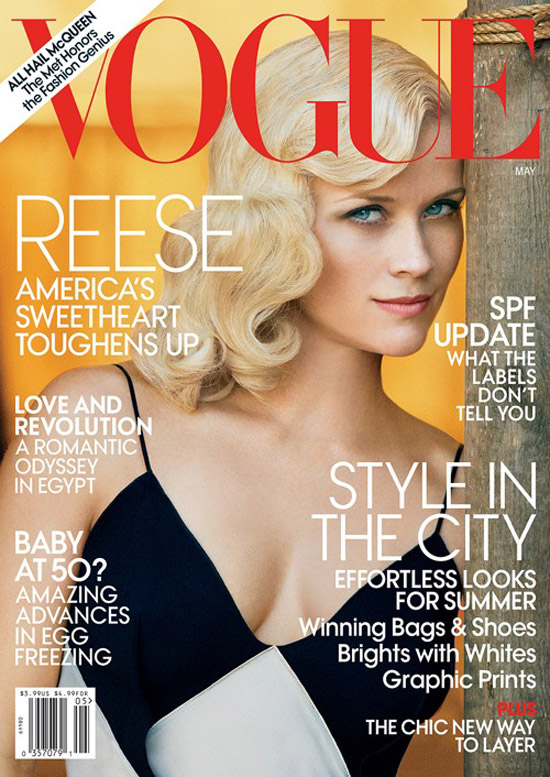 Reese Witherspoon is the cover girl for the May 2011 issue of Vogue Magazine. The actress, who stars alongside Robert Pattinson in "Water for Elephants" (due in theaters next weekend), talks about her new husband, her new movie and more in the issue, which hits newsstands next Tuesday (Apr 19).
Peep a few excerpts from Reese's cover story below:
On married life with Jim Toth: "He's wonderful. He's just a really great guy, and I feel really lucky. It's so cute: Over the holidays I was at a department store in L.A. with my friends, and these three women from Oklahoma came up to me, and they said – Reese, We are so happy for yeeew. We liiike this guy for yeeew.' And I said, 'You do?!' 'Yes, ma'am. We think he is a niiice man. We think he is going to treat you well and be good to yeeew.' I was like, 'Really?' So sweet! And I told them my mother likes him very much, too."
On her current place in life: "I mean . . . it sort of indicates that at other times I was not in a good place. Which is true. I have had my share of heartbreak. But I think your friends really know when you are at your happiest. Even though I am nervous and excited and all those things people feel when they are about to get married, I think I am mostly very calm right now. Usually, I'm a little bit of a squirrel. I have a squirrelly energy."
Reese's co-star Robert Pattinson on the actress: "In terms of public perception, she's thought of as America's Sweetheart. And she kind of is in a lot of ways. But I think that she's a lot bawdier than that, a lot more raucous. It did actually shock me to see that. She's tough. You wouldn't want to get into an argument with her at all. You can always tell that she will be incredibly nice to anyone who's not an idiot, but it's always very clear that there's a line you really shouldn't cross."
[ Gossip Center ]
Be the first to receive breaking news alerts and more stories like this by subscribing to our mailing list.