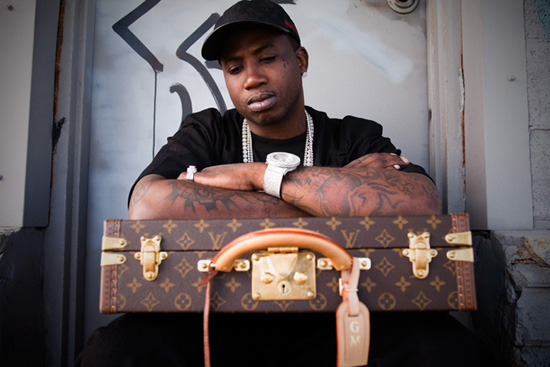 Over the weekend, we reported that Gucci Mane was arrested for pushing a woman out of a moving vehicle. The rapper was taken into custody while visiting his probation officer in Atlanta Friday (Apr 8) and remains in custody as of today on battery charges.
Now we have the details on exactly why he thought it would be okay to push a woman out of a moving car. Check them out below:
The incident he is charged with happened on January 28th, according to an incident report from DeKalb County police. According to the report, Gucci Mane picked up a 36 year old woman at South DeKalb Mall in a white Hummer after he asked her if she wanted to go to breakfast.

The alleged victim stated she had never met the suspect previously but knew of his musical profession according to the report. At one point the woman realized he wasn't taking her for breakfast. "(The woman) asked what was he doing and where were they going. Gucci Mane stated that he wanted to go to the hotel and that he would give her $150 dollars. (The woman) refused and stated just take me back to the mall, I can make my own money."

The report said Gucci Mane leaned over the woman and opened the passenger side door while the vehicle was still in motion. "Gucci Mane shoved (the woman) several times in the side and shoulder area attempting to get her out of his vehicle." The report said the vehicle left the roadway and Gucci Mane was able to push (the woman) out of the vehicle which was still moving.

According to the report, the woman was transported to Atlanta Medical Center complaining of soreness and pain. The woman was advised to apply for a warrant. "Detectives did not take out a warrant," said DeKalb Police spokesperson Mekka Parish. "In misdemeanor assault/battery cases the victim applies for warrants."
So you pushed a woman out of a car (a moving one at that) because she didn't want to have sex with you for $150? Wow. You're cool.
Just to put all of this in perspective, Gucci Mane has been arrested at least 5 other times (for completely separate incidents) since 2005. Sounds like someone just likes to do hoodrat stuff!
Be the first to receive breaking news alerts and more stories like this by subscribing to our mailing list.